Introduction of Sweet Potato Starch Noodle Maker Machine
Multi-function temperature control potato starch noodle making machine not change adhesive feature of starch, can produce vermicelli, wide flat vermicelli, thin potato starch noodle. Materials of starch noodles can be pure corn starch, potato starch, sweet potato starch, broad bean starch, mung bean starch and pea starch, rice starch or all kinds of starch.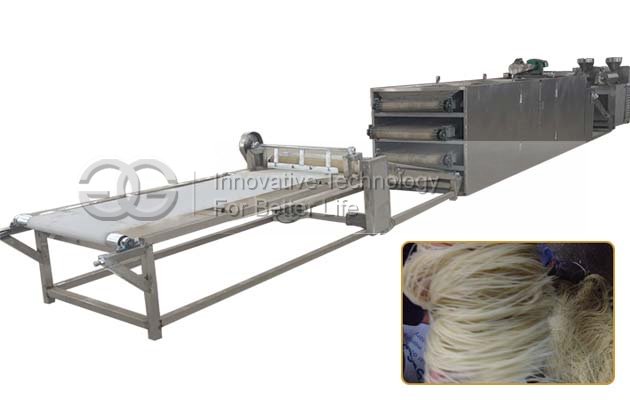 Working Principle of Potato Starch Noodle Making Machine
One or more sweet potato starch noodle making machine work together, using a transmission line for the cooling conveyor, automatic starch noodle cutting, automatic or artificial putting-up rod, by a shopping cart sent into the refrigeration storage.
Characteristics Of Sweet Potato Starch Noodle Processing Equipment
Change the original single machine working into of two or more vermicelli machine forming a production line for production. Two to three workers can operate properly, can produce 400 kg to 1500 kg per hour (The production capacity is subject to production of numbers of machines, one machine can produce 200 kilograms per hour) and potato starch noodles after a long time cooling, can reduce the freezing time, more conducive to vermicelli evacuation, which fully improve the working efficiency, reduce the labor intensity, save manpower, reduces the production cost.