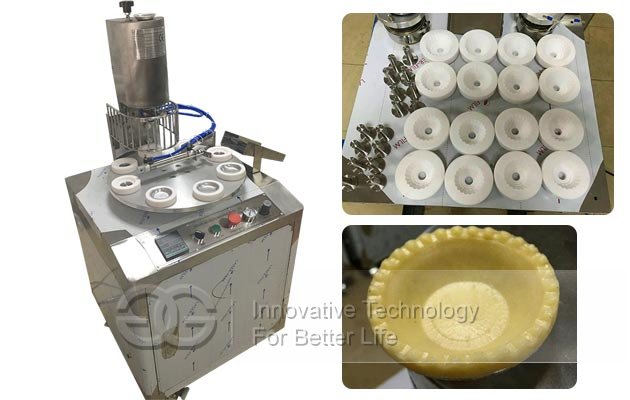 Usage
The company eight
egg tart making machine
is suitable for hotels, restaurants, factories, bakery, it can produce the Portuguese egg tart, crisp skin cantonese egg tart and all kinds of fancy egg tart.
The installation and adjustment
1) Place the machine in the specified location, brake four-wheel stop.
2) power supply connection: ac three-phase four-wire 380 v, 50 hz power supply, wire diameter was 1.5, the equipment must be equipped with grounding protection device.
(3) the connection of the trachea: air compressor must be at least more than 1 HP), pressure to use in 6 kg before, trachea pipe diameter Ø 6 mm.
1) switch on power supply, air supply (supply voltage 380 v, 50 hz, barometric pressure 6 kg).
2) turn on the power switch to turn on heating power, let mould preheating first.
3) please dispatch temperature control table to 60 ℃ (from 0 ℃ to 60 ℃, takes about 15 minutes), after the temperature rise to 60 ℃ before operation.
4) open the starting power to run machines, power supply and then open the molding machine. Please put the tower cup can be placed in the mold by hand.