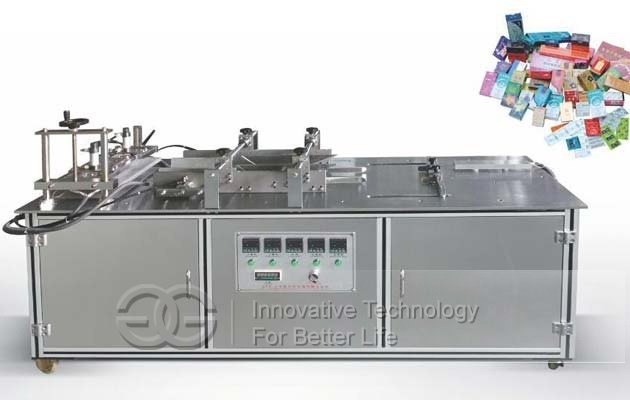 Appliation of
Semi Auto Cellophane Overwrapping Machine for Tea Box
This film wrapping machine is widely used in testing paper, cosmetics, medicines, food, health care products, stationery, daily necessities, and other outside the box of transparent membrane three dimensional packaging (packaging effect is the same as cigarette).
Features of Semi-automatic Cellophane Tea Box Wrapping Machine
1. The film packaging has moistureproof, dustproof, prevent oil, anti-counterfeiting function.
2. Compared with heat shrink wrapping machine, this machine has greatly increased the yield and the decorative effect, enhance the packing product market competitiveness, can make sales soar, and improve the added value of products.
3. Compared to heat shrinkable packaging machine, saving electricity was above eighty percent, and saving electricity fro two years can buy a semi-automatic transparent film packaging machine.
5. Stable running, high reliability, almost no need for maintenance.
6. Strong adaptability, one machine can complete dozens of specifications of packing box, the mould price is low, convenient, fast and easy to replace.
7. The machine has compact structure and takes up less space, light weight, packing area almost unlimited.
After-sales service
1. For on-site installation and debugging and training, free service for domestic customer;
2. The machine warranty for one year (including any parts non-artificial damage), including door-to-door service (domestic). Beyond warranty, charge for material fee and travel expenses.

Semi Auto Cellophane Wrapping Machine Video: