Peanut Slicing Machine Introduction
Peanut slicing machine is specially designed cutting equipment, which is used to cut nuts into slices, such as peanuts, almonds, cashew nuts, walnuts and other nuts into slices, and its thickness can be adjusted. The machine is equipped with pneumatic discharge apparatus and slice cutting device.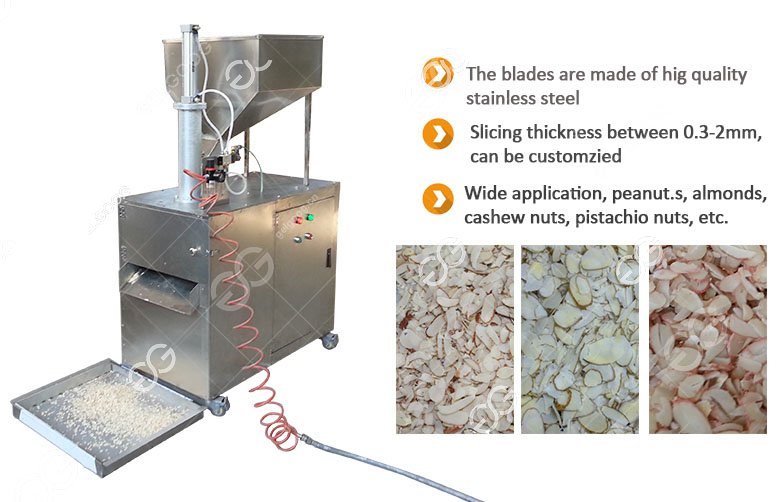 Put peanuts into the feeding hopper, and the peanuts would be pressed into the cutting knife by the pneumatic device and cut into peanut slices. The slice thickness can be adjusted from 0.3mm to 2mm. Note, usually the water content of raw material should be 15-18%, not easy to be broken.
Peanut Slice Cutting Machine Advantages
The peanut cutting blades are made of high quality steel with sharp edge and long service life.
This nut slicing machine is made of stainless steel plate, durable, clean and sanitary.
Suitable for cutting various nuts, such as peanuts, almonds, cashew nuts and so on.
This machine is applicable to nuts slices production, which is widely used in jam, bread, cakes, etc.
This slicer machine is made of high quality stainless steel.,In accordance with food hygiene standards.
Full-automatic operation, low noise, high efficiency.
The slicing thickness is adjustable.