Automatic liquid ointment filling packing machine is a kind of vertical packaging machine designed for small bag packaging; This machine can pack the trilateral, four edge sealing, flat bag, pillow bag, intermittent packing for sauce bags. Automatically finish measuring, suitable for good liquidity materials, such as ointment, hot sauce, tomato paste, BBQ sauce, shampoo, etc.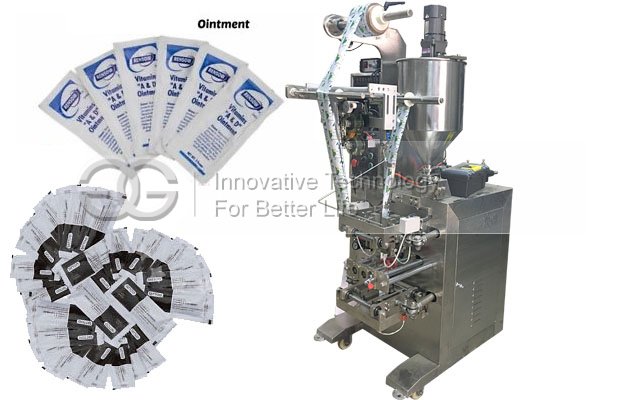 Chracteristics of Automatic Ointment Filling Machine
1. The Chinese and English display control system, easy to operate and maintain, with stable performance and good quality.
2. Packing speed uses stepless speed regulation.
3. The special bag length control technology, bag length is adjustable with accurate bag length, easy to adjust.
4. Intelligent temperature controller, constantly control heat sealing temperature, to ensure the sealing quality.
5. Replacing parts can realize three-side sealing, four-side sealing, flat bag, pillow type bag packing.
6. The unique photoelectric positioning technology ensures full color mark bag design.
7. Packing quantity within the rated is stepless adjustable.
8. Automatically print product batch number, and easy to tear, easy to use.
9. The machine appearance is beautiful and easy, all stainless steel structure, conform to the hygiene requirements of food and pharmaceutical packaging, suitable for food, medicine and chemical industry.