Features of Turnplate Potato Chips Packing Machine
Adopts advanced imported photoelectric control system. Import infinitely adjustable-speed rotary, adjustable discharge system. Automatically finish bag making, measuring, filling, sealing, counting, cutting, and other functions.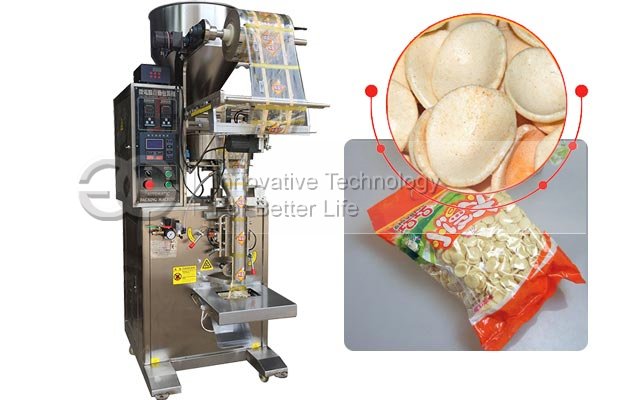 Usage of Automatic Potato Chips Packaging Machine
Suitable for pharmaceutical, foodstuff and chemical species of a viscous or cohesionless particle packing(such as coffee, salt, sugar, broken tea, radix isatidis, peanuts, beans, grains and other materials).
Packing materials: PT/PE, nylon composite membrane, PT/PE, PET/PE, PET/PP, BOPP film heat sealing compound packing materials.
Performance: Uses the microcomputer control, by a sensor signal through the microcomputer processing and setting, to complete the synchronization of the whole machine, bag length, positioning, automatic tracking the cursor, automatic diagnosis fault and display on the screen.
Function: Finish whole set of bag making, measuring, material filling, filling, counting, sealing, code printing, feeding, cutting and a series of actions are done automatically.
Application: Applicable to food, spices, reagents, such as puffed, chips, nuts, rice crust, pancakes or other materials) of the packaging.
Related Product:
Sugar Sachet Packing Machine