What is
Almond Pista Slice Cutting Machine?
The almond pista slice cutting machine is used for the slicing equipment of nuts such as peanut, almond, cashew nut and walnut.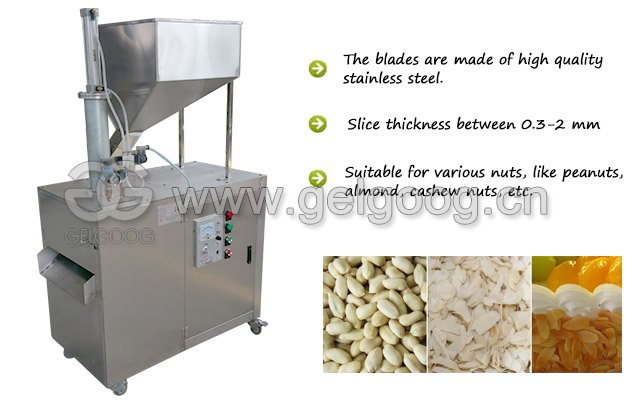 The pista cutting machine has low price, is equipped with pneumatic feeding device and slicing device. The nuts are put into the feeding hopper, and the nuts are pressed into the cutter head by a pneumatic device to cut out the flake, and the thickness of the slices can be arbitrarily adjusted. The blades are made of high-quality high-speed steel with sharp edges and long service life.
The fuselage cover of almond cutting machine is made of stainless steel plate and meets the requirements of food hygiene. Special machinery for peanut and almond slices cutting.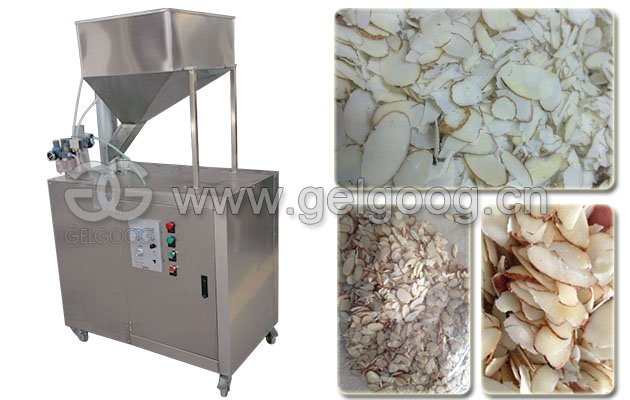 This almond cutting machine is suitable for the early processing of pastry fillings such as jams, breads and moon cakes. High-speed nut slicer is a redesign of various nut slices with reference to foreign advanced technology. It is suitable for the slicing of peanuts, almonds and walnuts. The thickness of slice can be adjusted to meet the requirements of use; The motor adopts variable frequency speed regulation. The output of the section can be adjusted; The pressure mechanism adopts a pneumatic device to regulate the pressure so that the slice can achieve the best effect.
People bought almond pista cutting machine also buy:
Almond peeling machine: For getting better quality almond slices, some customers also choose almond peeling machine to remove almond skin. Three models for selection.
Almond Roasting Machine: This machine is used to roasting almonds, customer can pack roasted almonds for selling.
Almond butter grinding machine: Almond butter has broad market. People engaged in almond business, can also make almond butter to extend business.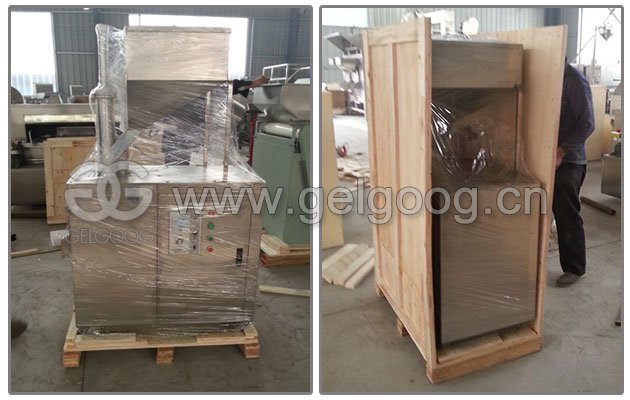 Service Process for Almond Cutting Machine Price
Design: According to customer needs, provide on-site exploration for customers and design workshops. To design the best process for customers, truly save time, effort, cost, high efficiency shipments.
Installation training: The technical staff is responsible for the installation, commissioning and training of technicians.
After-sale warranty: One year warranty, lifetime maintenance. 24 hours to receive technical advice to provide customers with technical diagnosis; maintenance personnel quickly arrived in place after receiving the fault notification, troubleshooting.