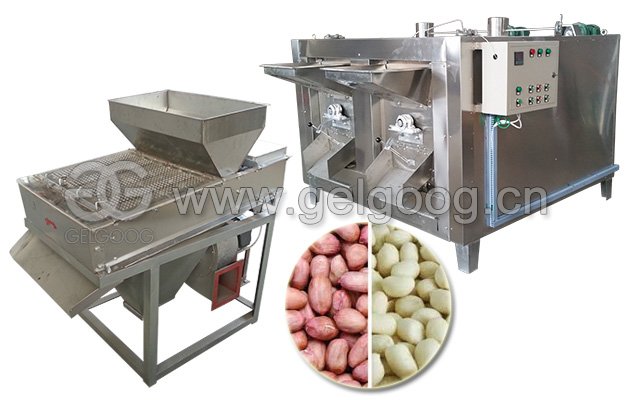 This
peanut frying peeling machine
consists of peanut frying machine and roasted peanuts peeling machine, and following will introduce these two machines in details:

Detailed Introduction for Groundnut Frying Peeling Machine
This peanut frying machine is mainly used in the food processing industry, beans, nuts, nuts (such as peanuts, milk rice, boiled spiced peanuts, seeds, almonds, chestnuts, beans, etc.) to reduce moisture drying, baked cooked products.
This peanut frying machine uses the electric heat pipe as the heating source, adopts the principle of rotary roller cage, heat conduction and heat radiation, and is equipped with an automatic temperature control device; This peanut frying machine uses hot air as the drying medium to apply heat energy to the baked object and is baked during the baking process. In the cage, the broiler is continuously pushed by the propulsion device to form an uninterrupted circulation, so that the heat is evenly distributed, and the quality of the roasting is effectively guaranteed.
Roasted peanut peeling machine is a professional equipment for removing peanuts skin. The peanut dry peeling machine adopts the working principle of the differential rolling friction drive. After the peanuts are baked, the moisture content is less than 5%. When avoiding baking, peeling is carried out. After the screening, the exhaust system sucks away the leather garments. , The whole grain peanut kernel, half grain, broken angle, stable performance, high productivity, good peeling effect, low half-grain rate, etc.