This
Automatic Cigarette Case Cellophane Packing Machine
's applicable material is cellophane and BOPP coating film, and this machine is general equipment to make 3d packing for different specifications carton or hard side body objects. Its regards mechanical linkage as the main body, adopts stepless frequency control of motor speed and automatic control electrical accessories. The machine integrating machine, electricity and gas as a whole, has compact structure, beautiful performance, convenient operation and easily maintenance, small volume, light weight and high degree of automation, etc. advantages.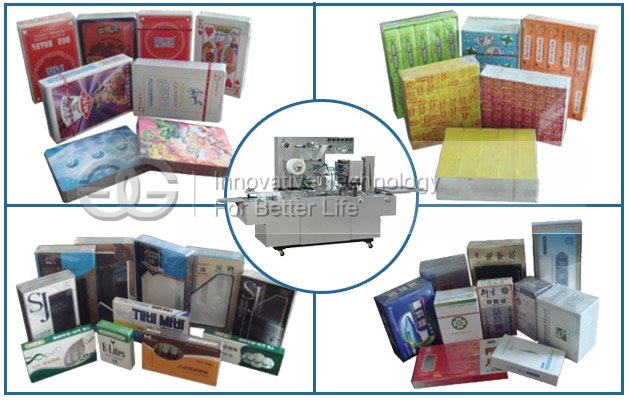 This packing machine is widely used in medicine, health care product, health tonic, food, daily cosmetics, stationery, VCD tape, poker, cigarettes etc. various small boxed item's packing, has anti-counterfeiting, moisture proof, improve product added value, product grades and product packaging quality function, is an ideal cassette 3d packaging equipment.

Usage of Cellophane Overwrapping Machine for Boxes
This packing machine is widely used in three-dimensional cosmetics, pharmaceuticals, food, health supplies, audio and video products, stationery, daily necessities and other items fitted cassette package wrapping.
Main feature: The packing machine adopts imported PLC human machine interface controlling system, its action all adopt the cylinder to drive, the membrane system adopts servo motor control, the film size can be arbitrary adjusted, with stable and reliable running, free maintenance, etc.