Straight knife aautomatic peanut cutting machine is mainly applicable to cutting and grading for peanut kernel, almond, walnut, melon seed kernel, hazelnut, cashewnuts, macadamia nuts and other granular, flaky, strip materials after roasting. The cut product has regular shape, do not produce extrusion oil phenomenon. Multi-stage screen can be selected according to customer's requirement.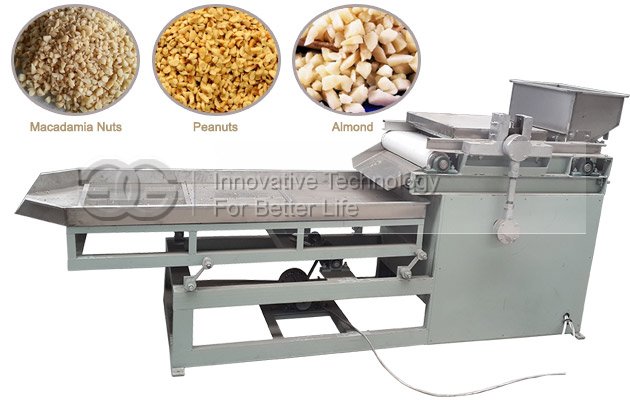 Features of Automatic Peanut Cutting Machine
1. This cutter machine has high production, equal size, low material consumption, low noise and no oil from the chopped peanuts;
2. The chopping blades cut the materials at certain speed, you can not adjust the cutting speed, but if you want to cut in large quantity, you can adjust the speed of conveyor, and the materials would be chopped into different sizes;
3. Different grades of chopped particles are selected through the vibrating screen, and the size of the mesh screen is custom-made.
4. This cutting machine can chop evenly, with little powder, no oil squeezed out during cutting process.