Introduction of Fish Meat Smoking Machine
All adopts electric control, easy to learn and master, as long as set the required temperature, the time is set correctly, can start working button to finish from baking, cooking, smoking, and multi-channel processes, at the same time of guarantee to improve the labor productivity, convenient for all kinds of meat products deep processing.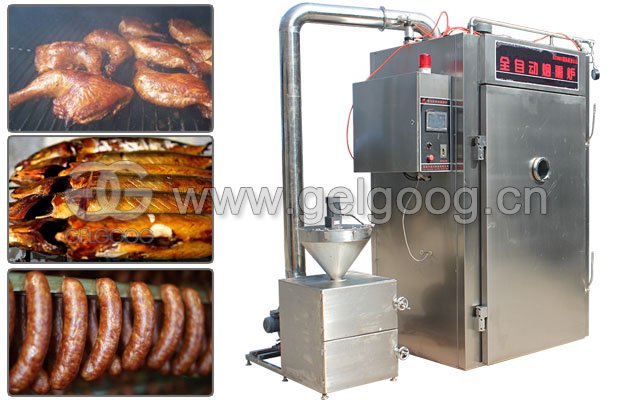 Function of Fish/Meat/Sausage Smoking Oven
It has many functions, such as baking, cooking and smoking, and low power consumption. The cost is only 60% of coal burning. Using electric steam cooker not only can improve product quality, ensure sanitation, but also reduce product cost, it is a good helper to make meat food on the spot. The price of small smoke furnace can be matched with the small mixing machine, small sausage filling machine in the city of the large supermarkets, in each large and medium-sized market in the production of the scene. It can also be used in large and medium-sized food processing plants. It is suitable for all kinds of sausage, ham, roast chicken, roast duck, barbecue, etc. Smoked equipment is mainly used in meat, fish products, bean products.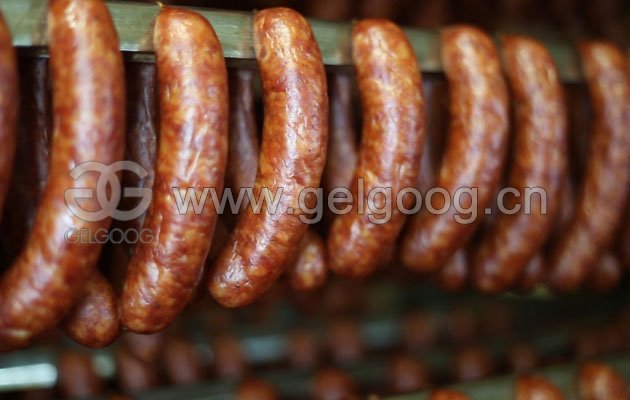 Features of Smoking Gas
1. Performance and Function: Smoked spices is light yellow to brown liquid, with rich aromas of smoke, can replace traditional smoked technology, to realize mechanization, electrification, smoked food industrial continuous production.
2. Solubility: It is readily soluble in water, so it can be blended into any concentration and can easily be added to food, or it can be added directly without dilution.
3. Permeability: It is easy to permeate into the food, so some small pieces of food can be used to produce smoked food.
4. The color of the product: It is easy to oxidize and discoloration, so the food that is processed by the smoke aroma has more attractive color, which can cause people's appetite.
5. Deodoration can remove the odor of mutton, smell of fish and improve food quality.
6. Can form a thin film on the surface of the meat product, so as to prevent the spillover of water and oil, thus improving the quality of the food.
7. The antiseptic products have the antiseptic and antioxidant effect, which can prolong the storage period and shelf life of the smoked food, which is better than the sodium benzoate, sorbitol, and the effective use range is pH less than 10.
8. The safety of this product is detected by GC/MS instrument, and it has not detected 3, 4-benzene and pyrene, which are harmful substances. The test proves that it is harmless to human body and is a safe and hygienic food additive.
9. The usual amount of use is 0. 05%-0. 3% or increase or decrease according to the residents' taste habits, but not too much, so as not to affect the original taste of food.