Spring roll pastry production solutions can create personalized solutions for you according to your plant size, production plan, market expansion and other needs. In addition to supplying complete material preparation, forming, and packaging equipment, the spring roll skin production solution helps customers to introduce more stable and efficient automated production. The equipment can be adjusted according to actual production needs, and the model and quantity can be adjusted.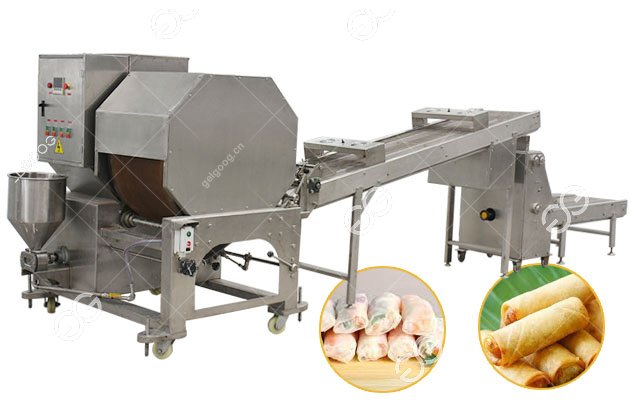 The temperature and thickness of the spring roll production equipment can be adjusted, and the thickness can be adjusted in the range of 0.5-2mm. The size and output of the baking wheel cake making machine can also be adjusted according to customer requirements. The grinding tool of the machine can be adjusted to a single row. Double-row, or three-row mold.
The automatic spring roll skin making machine can automate the complicated manual process, effectively increase the production capacity and maintain stable finished product quality. Just pour the prepared batter into the batter, and it can be automatically baked into a spring roll belt; it is then cooled by a fan, cut, stacked, and packaged for sale. The matching baking wheel adopts a microcomputer temperature controller, which can control the temperature error within ±1°C to ensure that the cake is baked evenly and the quality is consistent.
Features of Gelgoog Spring Roll Wrapping Machine
Voltage can be adjusted according to customer needs
The special mixing equipment can maintain the smooth and stable flow of the batter and ensure the fine quality of the spring roll skin.
Machinery and equipment are in compliance with food safety production standards
The number of equipment can be adjusted or increased or decreased according to actual production needs
It can provide space planning, moving line optimization and manpower allocation suggestions required by the production line
Application of Spring Roll Pastry Making Machine
Central kitchen, food factory, kitchen planning, food factory integration equipment supplier, restaurant, school