Introduction of Hard and Soft Biscuit Production Line
The gelgoog biscuit production line can produce all kinds of tough and crisp biscuits. This series of production lines can be combined in any combination according to the user's site requirements and the requirements of the biscuit technology. By changing the mold and the process formula, it can produce various high-end biscuits popular in the market, such as butter. Biscuits, sandwich biscuits, soda biscuits, animal biscuits, vegetable biscuits, etc. And the heating methods are diversified, including electric heating, natural gas heating, heat conduction oil heating, etc., for customers to choose at will.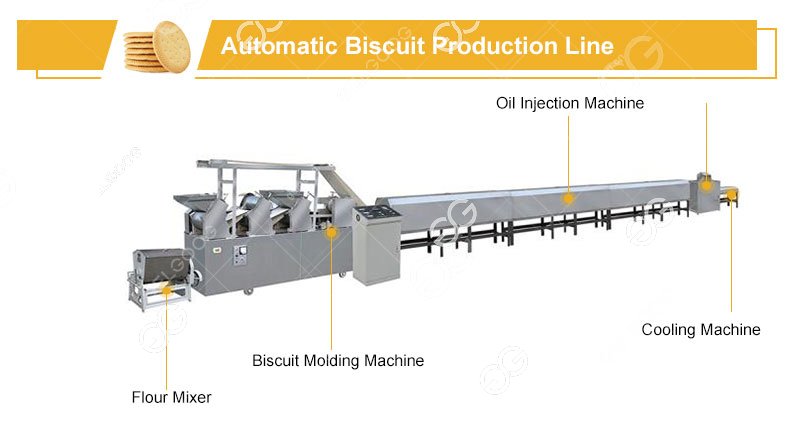 This hard(cracker) and soft biscuit production line adoption standard, it can mix 500KGS flour every time. Blender is made up of two oars, controlled by adjusting-motor, at the same time users can choose low or high speed .It is a suit with mixing every type of dough blender and widely used to mix soft or hard biscuit's flour. To convenience mixing, the bucket stirrer can be demounted. The demounted bucket stirrer has wheels and can be move to pouring machine pour flour.
Features of Automatic Biscuit Production Line
Can provide reasonable design configuration according to the customer's site, output requirements and electrical requirements.
In addition, the shape of the biscuits depends on the mold. The company can provide customers with hundreds of mold options. Of course, they can also be customized by the customer's own design company, whether it is finger biscuits, butter biscuits, thin biscuits, soda biscuits, animal biscuits, and whole grains on the market. Biscuits are still sandwich biscuits, and this production line can produce them.
Output range: 150-200kg/h
Electric tunnel oven, gas tunnel oven, heat transfer oil tunnel oven, diesel tunnel oven, based on customer need.
Tough biscuit production process: mixing dough-biscuit molding (crispy/toughness)-salt and sugar taste-baking-oil injection-turning machine (saving plant space)-cooling-differential cake- -package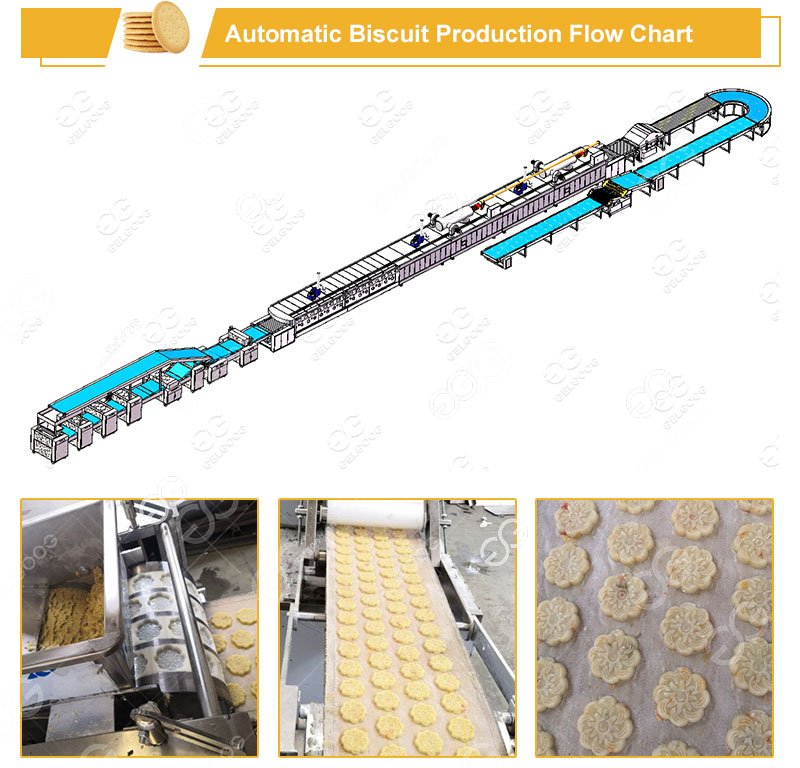 Advantages of Gelgoog Biscuit Processing Equipment
This biscuit production line may be Combined freely according to the condition of customers workshop space and requirement of biscuit technology. These all can reach the ideal purpose.
The line use imported electric components and its speeds are changed by frequency conversion.They save energy and are dependable,May be controlled single or combined.
Full Automatic line process from raw material mixing to final Packing
Working Video of Fully Automatic Biscuit Processing Line