Automatic pomegranate peeling machine, as pomegranate wine, pomegranate juice and other production equipment, is one of special equipment for the pomegranate deep processing, mainly used for the pomegranate skin seed separation, necessary machine in the early period of the pomegranate juice extraction.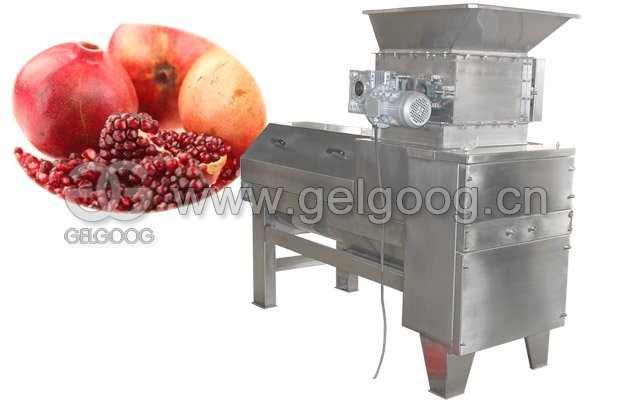 Henan GELGOOG Machinery co., LTD., research and development production of pomegranate peeling and extraction machine (pomegranate seed separator machine) for a new generation of products, pomegranate peeling machine in addition to the reducer and part of the transmission parts are all made of high-quality stainless steel materials. Machine equipment can be customized according to requirements.
Working Principle of Pomegranate Separator Machine
Pomegranate from the hopper into the crushing device, after crushing roller relative extrusion and roller blades on the pressure, pomegranate seeds and some juice leakage from the screen hole, pomegranate peel discharged from the tail of equipment. Do not need secondary crushing, reduce the breakage of the pomegranate seeds, retain more juice, once in place, can not only retain the original juice taste, and tannin content in strict accordance with national standards, no more than 4%, which is rich in high nutrition value, and avoid the bitter taste.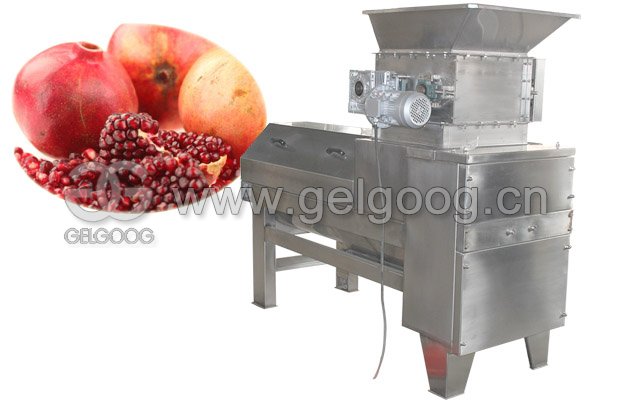 Description Of Pomegranate Aril Separator Machine
1. Pomegranate from the feed hopper into crushing device, upper crushing device press pomegranate, lower the crushing device squeezing pomegranate again, after two levels of extrusion, pomegranate has basically skin seed separation, and fall into separation device, pomegranate seeds from mesh, skin from the tail, seeds and the juice with the other with screw pump, to the next to the procedure.
2. Gap between the upper and lower crushing rolls can be adjusted and the crushing roll is elastic.
3. The upper and lower crushing device after changing to the upper and lower cutting device can be used for the separation of the skin and meat of passionflower and pomegranate
4. Mixing shaft and rotary screen speed are adjustable.

GELGOOG is professional in pomegranate processing equipment production, quality trustworthy, after-sales guarantee, lifetime maintenance, update technology. Welcome to visit our company and watch the video. Pomegranate peeling machine is one of the special equipment of pomegranate deep processing. This machine is developed by our company on the basis of foreign technology such as Italy, used to separate the pomegranate seeds and arils, and is a prerequisite equipment for the extraction of pomegranate juice.

Video of Pomegranate Seed Separator Machine