Rotary type yogurt cup filling sealing machine is suitable for all kinds of yogurt, milk, fruit juice beverage production, which can also finish automatic cup dropping, filling, absorb paper film, sealing, dating, automatic box transmission. This machine uses programmable logic controller of Japan Omron, pneumatic control, and Intelligent Digital Display Temperature Control System. The machine with all stainless steel cover, can seal with high strength, good sealing, and low failure rate, easy clean, occupies small area.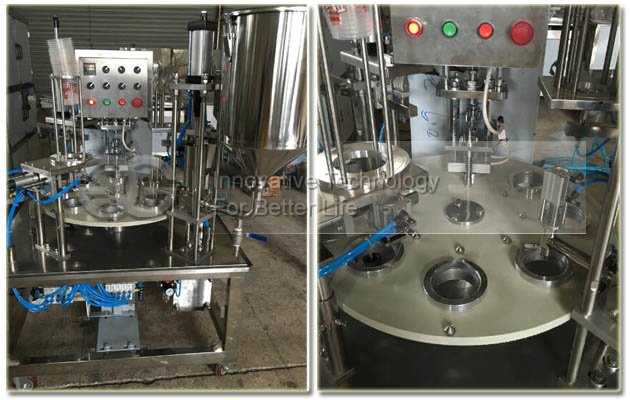 This yogurt cup filling machine can falling cup automatically, then filling materials, and put cover automatically, at last sealing the cup.
Plastic can be done automatically (paper) cup falling cup, filling, date printing, optical positioning, sealing, automatic core cutting and waste film recycling function.
Machine with programmable logic controllers, Taiwan pneumatic control components, intelligent digital temperature control system with high seal strength, good sealing, low failure rate, and small size, is the product of choice for business automation.
This machine is very easy to operate, before you want to buy this machine, you should confirm to us your cup's size, and the weight of per cup, and your capacity requirements, then i can suggest the best suitable machine for you.