This automatic chili sauce packing machine uses volume method of pneumatic plunger pump to measure the material of the products. The packaging machine can pack different weight materials. Bag length can be adjustable, when it comes to packing specifications, a variety of packaging bags wide timing, can according to the packaging specification and weight, to purchase multiple sets of different packaging specifications of the molding machine, pump with different material.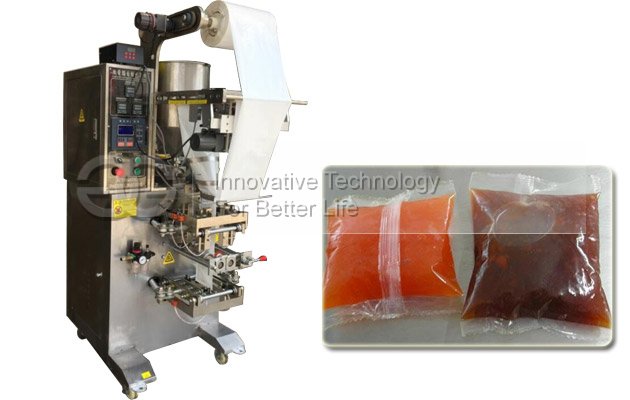 This automatic sauce packing machine is suitable for all kinds of bean paste, sauce, seasoning, oil, etc., such as bake edible sauce, hot pot seasoning sauce, salad sauce, fruit granule jam, edible fruit jam, bakery jam, peanut butter, MaLaJiang, tomato sauce, etc., are widely used in food industry, all kinds of seasoning spices industry, as well as chemical, agrochemical, and many other industries.
Advantage of Automatic Chili Sauce Packing Machine
1) Be able to weight, bag-making, filling, sealing, cutting, lot number automatically.
2) It has color control system which can get the complete trade mark design(Photo electricity control system).
3) The machine fix stepper motor controller, its advantage is precise, needless to adjust other parts
4) Intelligent temperature control by temperature controller to make heat balance better. Use bilingualdisplay screen control system and stainless steel cabinet
5) Fine packaging performance, low noise, clear sealing texture and strong sealing performance
6) With safe plastic box on rotating blade to avoid hurting operators hands
7) Need to change new temperature controller, blade& pressing mode only after 3 years continuous operation,2 shifts a day and other parts is still good and safe freely)
8) With printer (to be able to code the date and batch number) and rotating blade (be able to adjust the length of bag and shape of bag notch edge packing.