Our potato French fries making machine is the essence of similar products, retaining advantages of large equipment, designed and developed based on the feedback information of users around the world. It has the advantages of low disposable investment, low energy consumption, mlti function, small volume, high profit, and convenient maintenance, suitable french fries machine for new business.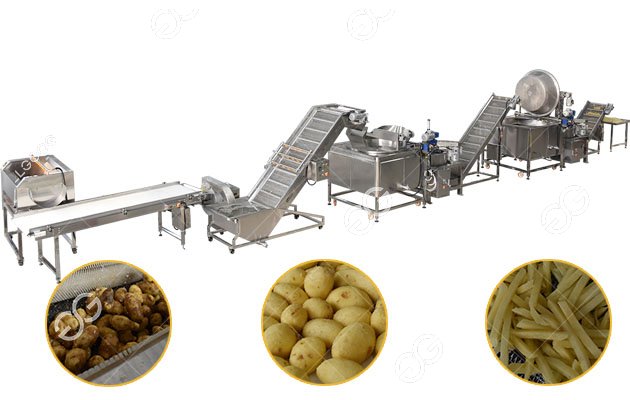 The complete set of French fries processing plant consists of cleaning, peeling, slicing (strip cutting), blanching, dehydration, water oil mixed frying, oil removing, seasoning, packaging and auxiliary equipment.
One. Fully automatic French fries production line equipment
Production process of French fries: Liftin and feeding - Cleaning peeling - Slicing or French fries cutting - Rinsing - Blanching color - dewatering - Frying - De-oil - Seasonings - Conveying - Packaging.
The equipment can be adapted for frying frozen French fries.
This set of equipment is made of 304 stainless steel, with high output, labor saving and installation and commissioning of the equipment.
Two. Performance of Economic French Fries Making Machine
1. Cleaning and peeling machine: The cleaning and peeling machine with gold steel lining should be used for cleaning and peeling. High efficiency, low loss.
2. Slice cutting machine: It can cut potatoes into slice or stips. Slice thickness, cut the size can be adjusted freely.
3. Blancher: To rinse and protect the cut potato chips (strips).
3. Dehydrator: centrifugal force dehydration. Before frying, it can greatly shorten the frying time and improve the taste of potato chips. Improve production efficiency and reduce production cost.
4. Oil-water mixed frying machine: this equipment is the most advanced frying equipment. On the basis of different proportion of water and oil, and the water below, in the upper heating oil Fried potato chips, the residue of direct precipitation in water, does not smoke, greatly extend the life span of the oil, bring down the cost. The oil temperature control is accurate, thus ensuring the quality and taste of potato chips. When the work is done, water is released and the residue will flow out with the water.
5. Deoiling machine: centrifuge deoiling machine, deoil the freshly Fried potato chip (strip), and overcome the defect of high oil content and greasy mouth. Improved the taste of chips.
6. Automatic seasoning machine: the drum type seasoning machine is made of stainless steel. The potato chips (strips) rotate evenly in the rotation of the roller, and add the seasoning or spray into the seasoning. Seasoning is not easy to break.
7. Nitrogen filling packaging machine: when packed in the package, it can effectively prevent the potato chip (strip) from breaking and extending the shelf life. Inflate, package, code to complete. The above two sets of equipment process users can choose either by themselves or by telephone +8618595717505