Gas Biscuit Baking Oven Intorduction
Gelgoog gas fired tunnel naking oven adopts flexible and solid furnace body structure, good heat preservation, scientific arrangement of fire pipes, PID temperature control module accurately controls temperature, based on continuous improvement of gas tunnel furnace test data, furnace is highly efficient and uniform The heat distribution can ensure the consistency of food baking.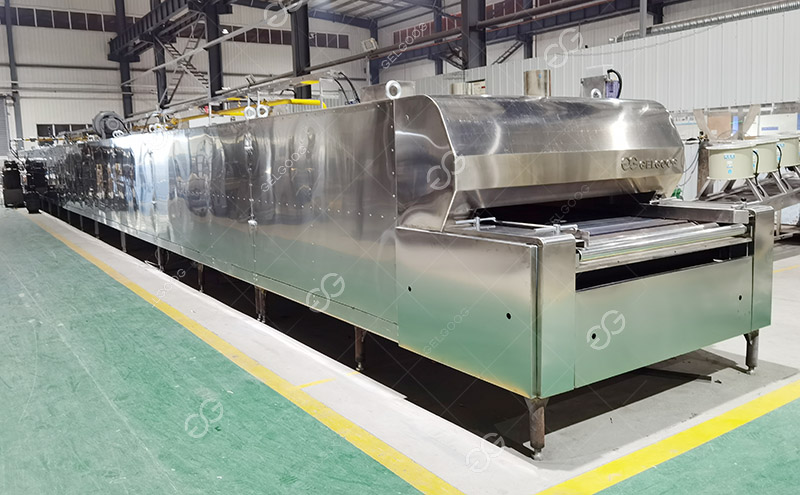 Gelgoog Biscuit Baking Oven Features
1. Reliable parts: gas and electrical safety control parts adopt internationally renowned brands of parts, such as Honeywell, Fisher, Mitsubishi, Omron, etc.;
2. Reliable combustion: complete premixed combustion mode, which makes the combustion full;
3. The program-controlled forced ventilation system can completely remove gas residues;
4. Gas overpressure control;
5. Air pressure detection device;
6. Gas leak detection alarm and control system;
7. Anti-tempering device;
8. Through-pu type special fan, provide stable wind pressure;
9. Linkage PLC microcomputer safety control system;
10. Reasonable structure and piping arrangement, strict inspection and testing, to ensure the stability of the heating state of the equipment.
Gas Fired Baking Tunnel Oven Application
It can be applied to bread, cakes, moon cakes, cookies, biscuits, meat products, nuts, vegetables, medicinal materials, etc. The temperature control range is 0-250℃, the baking time is set for 8-80 minutes, and the circulating air and temperature proportional control can be increased.