Intrduction of High Efficiency Cashew Nut Shelling Machine
This machine is a special sheller for removing cashew nut shell. Before putting cashew nuts into machine, cashew nuts should be divided into 3 to 5 grades manually according to their width or by cashew nuts grading machine. After shelling with this machine, the cashew nuts' shell opening rate and the whole kernel rate both reach more than 95%.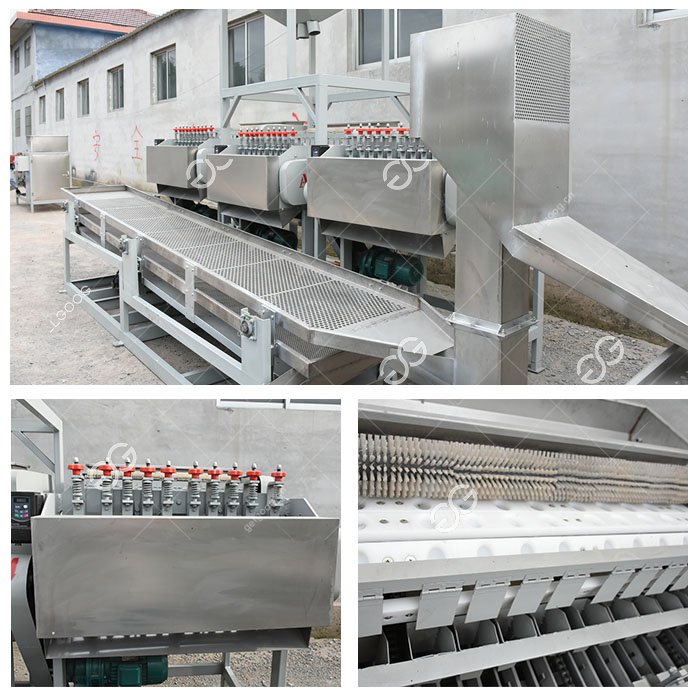 This shelling machine has 10 feeding ports, also can be customized accroding to actual demand. Material feeding is done manually. Output is related to the proficiency of the operator. The shell opening can be operated manually or automatically. The height of the operating table can be adjusted. Cooked cashew nuts are shelled in automatic cashew nut shelling machines. The capacity of cashew nut shelling machine can reach 170 kg/h, and for cashew nut shelling line in 300 kg/h, we equip 2 shelling machines here.
Advantages of Automatic Cashew Nut Shelling Machine
1. 10 feeding inlet, can finish cashew nut feeding automatically.
2. PLC control, and fully automatic design can save working time and workforce compared to manual cashew shelling.
3. Cashew shelling machines are made from carbon steel and stainless steel, long service life.
4. Adjustable gap between rollers can be used for shelling cashew nuts with different sizes.
5. High efficiency in shelling and separating cashew nuts, and whole cashew kernels can reach 98%.
6. Advanced design ensures low broken rate and low energy consumption.

Working Video of Cashew Nuts Shelling Machine