Stone grinding machine for nut butters is applicable for grinding sesame, peanut, almond, walnut and other high oil content granular material. The stone grinding machine is necessary equipment in peanut butter production line.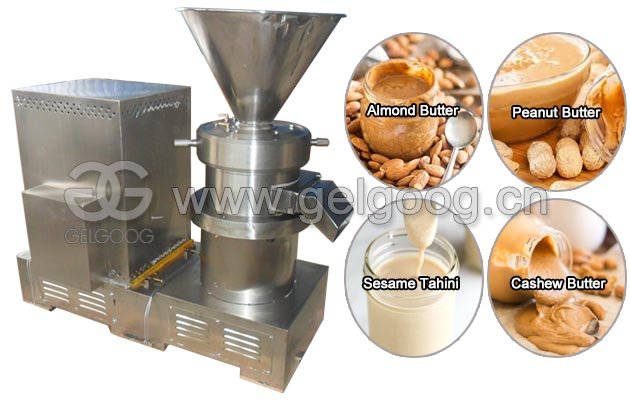 Material from the upper inlet screw into the grinding head, work rotor high-speed rotation shear to grinding material. By adjusting the clearance of the stator and rotor, can adjust the fineness of nuts paste, fineness can be from 80 mesh to 150 mesh. Usually circulating water pressure at work, so that cooling grinding head and materials, eliminate the high-speed shear heat, maximum reduce the paste body temperature.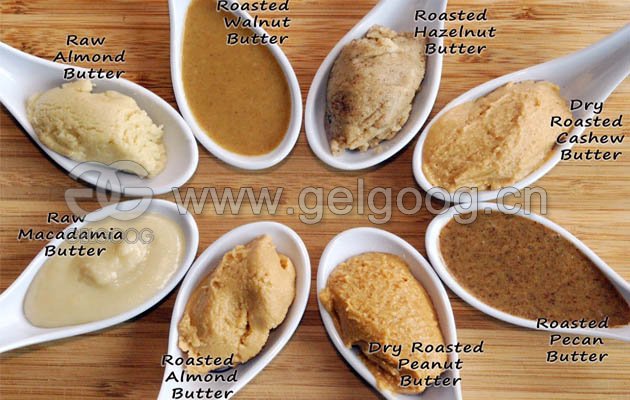 Application of Commercial Stone Grinder for Nut Butter
Suitable for making peanut butter, sesame paste, cashew butter, almond butter, pine nut sauce, bean paste, walnut paste, pumpkin seeds butter, sunflower seeds butter, cocoa paste, stuffing, jam, bean paste, blackberry jam, no residue soya-bean milk. The produced nut butter is direct edible, with bread, hot pot soup, lettuce salad sauce, mix the gruel, pasta, cake for dessert, food materials, ingredients, and the wind sauce, making ice cream, and drink soya-bean milk, etc.
Use Occasions of Commercial Nut Butter Stone Grinding Machine
Store, supermarket, organic food outlets, agricultural outlets, baking industry, pastry shop, stuffing, hotel, restaurant, breakfast, sesame catsup noodle, family DIY, sauce food research and development
Features of Stone Grinder for Nut Butters
1. In the process of grinding, do not need to add oil or water.
2. Low temperature grinding, low temperature sauce.
3. The multi-usage, can grind various nuts.
4. Grinding horsepower, fast grinding speed.
5. Patent mill design, fast heat dissipation, no loss.
6. Special motor, automatic power-off protection device.
7. Simple and safe operation, quick easy cleaning.
8. Can adjust grinding fineness.
9. The machine is small in size, does not occupy too much space.
10. Provide entrepreneurial opportunities a low investment and high reward