Introduction of Gelgoog Lumpia Wrapper Making Machine
The machine can produce round spring roll skins with a thickness of 0.3mm-1.2mm and a size of 10-50cm. Round spring roll wrappers of different sizes and outputs can be customized according to user needs. Adopt advanced temperature control system, let the temperature reach zero error, no heat waste, achieve the purpose of energy saving and environmental protection, lower production cost, simple operating system, one person can operate, saving labor.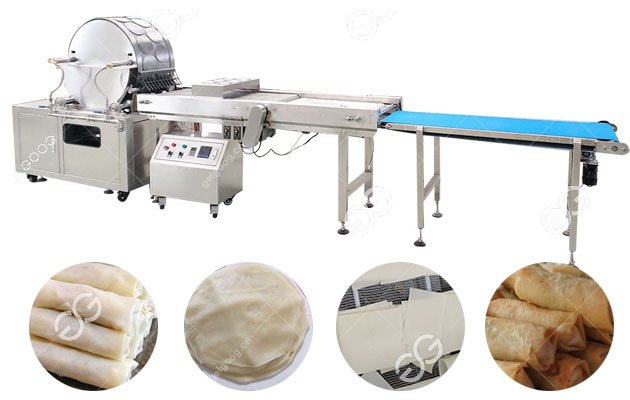 Working principle: The batter is prepared according to the requirements of the batter production process. After the batter is heated and baked by a round roasting wheel, it becomes a spring roll skin or other flake food with a fixed thickness.
Technological process: put the prepared batter into the slurry bucket, when the baking wheel is heated to 160 ℃, start the slurry pump to send the batter to the nozzle, operate the clutch lever to make the batter adhere to the circle of the baking wheel. On the arc surface, when the roasting wheel rotates through an angle of 270-300 degrees, the batter is cooked and automatically separated from the roasting wheel to form a spring roll skin with a fixed thickness or wrap the spring roll immediately.
The heating method of the roasting wheel is divided into electric heating and gas heating for users to choose.