Introduction of Industrial Peanut Cleaning and Shelling Machine
Peanut shelling machine is a professional equipment for peanut shelling. The processed peanuts have low breakage rate, clean sorting, good color and less impurities, and all indicators meet the national standards. This peanut sheller is used in
peanut butter production line
.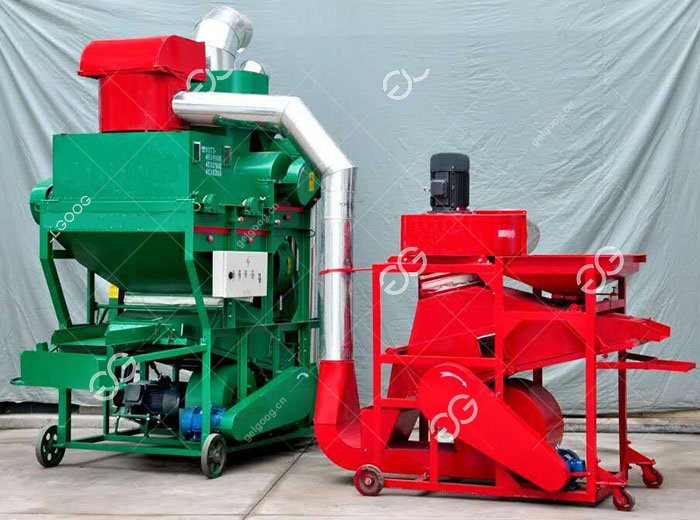 Features of Automatic Peanut Sheller Machine
1. The peeling and rolling method adopts the principle of dry peeling by iron roller rotation and electric sieving and classification.
2. The breakage rate is low, and the shell is made of iron plate powder spraying process, which is beautiful and durable.
3. Well-designed special hair dryer has moderate wind and even distribution of wind, which can effectively separate seeds and shells and optimize the recovery rate of seeds.
4. The shelling machine is equipped with high-quality universal wheels, and adopts a unique side-mounted design, which is easy to move.
5. Small size, efficient and convenient. The peeling rate can reach 800--1000 kilograms (peanut fruit) per hour, and the peeling rate is over 98%.
6. Each machine is equipped with two grates, which can be used for peeling peanuts of different sizes.
Precautions for Using Peanut Shelling Machine
1. Please operate the peeler on a spacious and flat site.
2. According to the different sizes of peanuts with shells, select the matching screen for shelling.
3. When the machine is running, please do not put your hand into the mechanical moving parts such as the motor, the blower, the inner side of the shield and the depth of the feeding port, so as to avoid injury.
4. The width of the feeding port is generally adjusted to about 3.5 cm (it can be adjusted appropriately according to the size of the peanut variety), and the peanut should be fed evenly when peeling the shell.
5. When assembling the vibrating screen, the tie rod nut at the bottom of the vibrating screen should be tightened, and the length of the tail of the tie rod should generally remain 2 cm.
6. If the shelled peanuts are too dry, the breakage rate will increase correspondingly during shelling. At this time, the peanut shells can be evenly wetted with water and placed for a few hours before shelling, which can achieve the desired effect.