Commercial fish ball making machine
is ideal equipment for filling balls meat products molding equipment, can produce a variety of specifications of fish balls, pork meatballs, beef meatball, filling meatballs, etc., and many kinds of balls. The equipment has the characteristics of fast speed, convenient sanitation, easy to be dismantled and so on. It can replace the manual production instead of dozens of people, which can save people's input and improve production efficiency, welcome to consult and negotiate.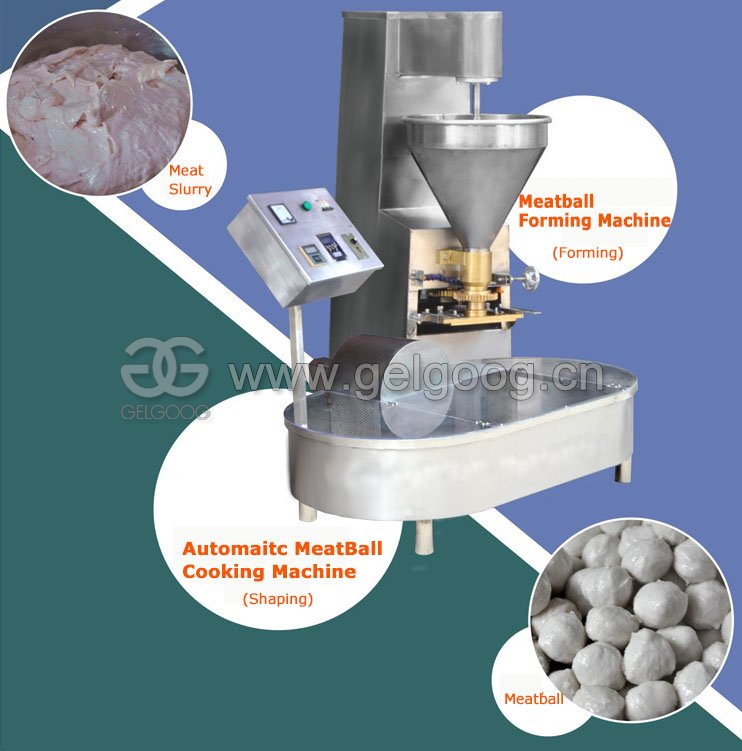 Introduction of Fish Ball Making Machine
Meat ball is made from an amount of ground meat rolled into a small ball, sometimes along with other ingredients, such as breadcrumbs, minced onion, spices, possibly eggs and herbs. Meatballs are usually prepared and rolled by hand or electric meatball machine and are cooked by frying, baking, steaming, or braising in sauce.
Meat ball is famous food with a long history. During its development, it became popular in Guangdong tea restaurant. It tastes cool and crisp. Now it is popular both in domestic market and abroad.
1. This machine can make meatball with stuffing/filling in it. Various stuffings such as pork, beef, chicken, fish, mutton, vegetable etc.
2. Wrapper and stuffing are put into two different hoppers. Stuffings are in the center of meatball; Thin skin much stuffing, no breakage.
3. Various stuffings and flavors. End products are elastic and tenacious
Advantage of Meat Ball Making Machine for Sale
1. The finished balls are with features of compact structure,round and smooth appearance;
2. The operator only need to put the raw material into the hopper,start the machine;then about 2-3minutes,the balls will be automatically made.The finished balls are with good taste;
3. The machine adopts stainless-steel,durable and wear-resistance;
4. The weight of the finished balls weigh about 8-25g each.The stuffing and working speed can be adjusted by yourself.The capacity could be 200-300kg/h,which is equal to 12-18 workers handmade efficiency;
5. The machine could encrust more stuffing.when operating,the balls can automatically fall into the pan,which reduce the human contact with the balls;
6. The machine can make all kinds of meat ball,fish ball,beef ball,chicken ball,tribute ball,prawn ball and so on.The taste can be changed by yourself;
7. Reasonable structure,easy to maintain and clean.
8. The high-speed meatball forming machine is used to make different kinds of meatball.