Description of Electric Fresh Meat Dicing Machine
Fresh meat dicing machine has compact structure, and this meat dicer machine adopts optimized sanitary design. Cutting knife adopts double-edge cutting with high work efficiency. The meat cutter machine can cut meat to 4mm size, and biggest 30mm.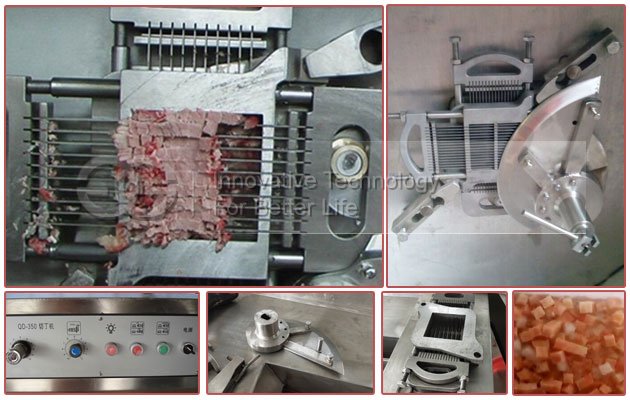 Features of Fresh Meat Dicer Machine
1. Adjusting thickness-cutting knob may carry out steeples speed regulation of push rod so as to meet the requirement of different cutting thickness;
2. Use pre-pressure design so as to ensure diced meat has even sizes;
3. When single-edge cutting, meat push rod makes step-by-step motion to ensure correct cutting dimension.
4. Made of high quality stainless steel material, with great safety performance;
2. The cutting parts are easy to remove and clean;
3. Cutting thickness can be through the hydraulic to adjust, in order to meet the needs of different thickness. And the machine still adopt the preloading design, guarantee the uniform of the pieces.