In order to help you understand manual hand operated paste filling machine, look at the following video first:
Brief Introduction of Hand Operated Paste Filling Machine
Vertical type full-pneumatic paste filling machine, cylinder body, machine case and hopper are all made of stainless steel materials, and the piston is made of polytetrafluoroethylene materials, meeting the requirements of GMP. The air source of the air compressor is the power of the machine, which has obvious advantages in the inflammable and explosive working environment. The filling quantity and filling speed can be adjusted at will. The foot pedal switch and automatic filling function are simple in structure and convenient in operation. It is suitable for filling liquid, paste and other substances in chemical, food, daily chemical, pharmaceutical, pesticide and lubricating oil industries.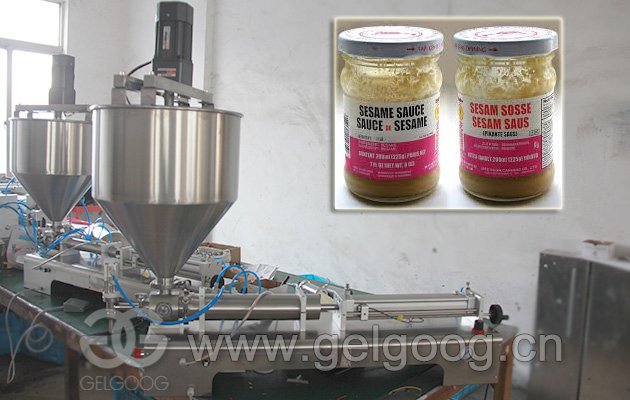 Filling capacity:
5-60ml,10-125ml, 25-250ml, 50-500ml, 100-1000ml, 250-2500ml, 500-5000ml(specially customized)

Features of Manual Paste Filling Machine
1. Applicable to the pharmaceutical, cosmetic, food, pesticides special industries, is an ideal equipment for high viscosity fluid filling;
2. Due to mechanical work under the conditions of no charge, more security, humanized design more accord with the requirement of modern enterprise;
3. This machine is a semi-automatic double piston manual paste filling machine;
4. Reasonable design, small model, convenient operation, pneumatic parts are all used Taiwan AirTac pneumatic components.
5. The machine is completely controlled by compressed air, without power supply;
6. It is especially used in explosion-proof environment and has high safety;
7. Due to pneumatic control and mechanical positioning, the filling precision is high, within 0.5 ‰;
8. Easy to operate, low failure rate.
Note: The filling range can be customized according to the user's requirements. Our factory provide standard production for manual hand operated paste filling machine, products shown for special liquid, special requirements which are specified in advance, our company can arrange production according to the requirement of related products of calibration, arrange machines production in accordance with the complexity of the machine cycle.