This Double layer
tea sachet packaging machine
is suitable for packing seed, medicine, health products, tea, etc., such as vegetable seeds, Chinese herbal medicine, health tea, chocolate, biscuits, beans, peanuts, pistachios, rock candy, cakes, daily necessities, cooked food, pickles, puffed food material automatic packaging. This machine can pack the material into the inner bag, and then put the inner bag into the outer bag, automatic completing the bag making, measuring, filling, sealing, cutting, counting, pressing batches, finished product output. The inner bag is tea filter paper, with thread and label, and the bag is packed into the outer bag automatically.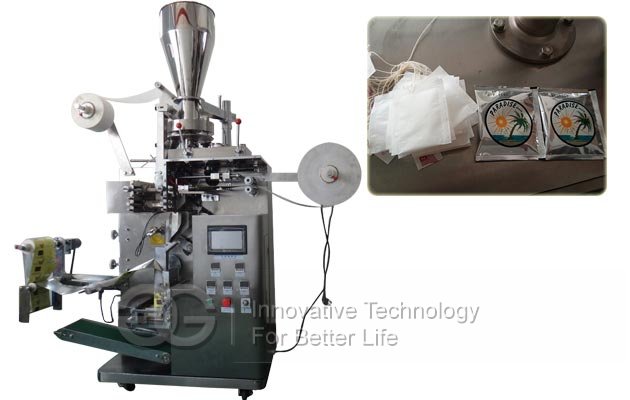 Characteristics of the machine:
1. The external seal paper is controlled by the stepping motor, the bag is stable and the positioning is accurate;
2. Use PID temperature controller, temperature control more accurate;
3. Adopts PLC control, the man-machine interface display, easy to operate;
4. All parts of the contact material is made of SUS304 stainless steel, which ensures the health of the product;
5. Parts of the working cylinder use the original imported parts, to ensure the work is accurate and stable;
6. Additional device of the machine can complete flat cutting, date printing, etc.