Black Gram Skin Removing Machine Brief Introduction
we have two materials of this bean peeling machine,full stainless steel model and carbon steel model.The parts that touches the raw material are made of stainless steel, the rest are made of coal rolling steel sheet or A3 steel. This machine is used for peeling soybean, black beans, broad beans, pea and so on. According to the sort and size of soybean, we can adjust the space so that the disc life cycle is expanded.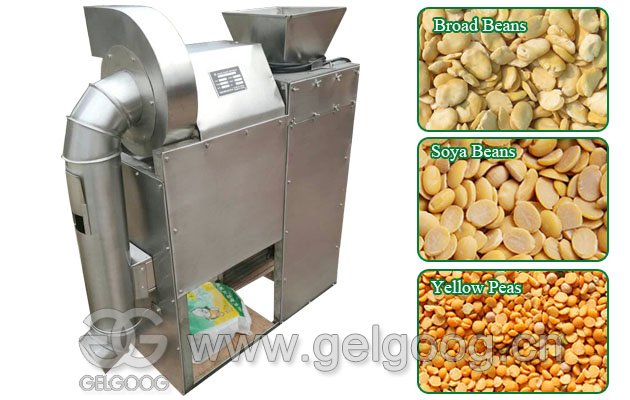 Application for Bean Peeling Machine
The machine is used for peeling soybean,g arden pea,broad beans,green bean,black gram, mung bean, soybean and other seeds with less the diameter 25mm in dry way, widely applied in food process facotry,hotel, canteen, family workshop and so on.
Black Gram Skin Removing Machine Working Principle
1. Before operation, check whether there is impurity in the machine and start when there is no anomalous phenomenon.
2. The direction is as clockwise.
3. After normal working, feed the material. When turn off, make sure there is no beans in the machine to be convenient for next work.
4. Adjust interval: hammer the screw nut on the spindle loose by knocking on the 10mm' screw of the screw nut; When the screw nut being used to fix the die loose, turn the die, (magnify the interval if turn as clockwise; Otherwise, reduce the interval); Make a good adjustment and then fix the screw nut.

Working Video of Beans Skin Peeling Machine