Dates seed removing machine is a special equipment designed and processed for red dates and other fruit seeds. The device is cleverly designed and uses conveyor belts for feeding. When removing dates seed, the red needle goes out from one end of the jujube to flush out the seeds. The jujube passes through the hole but has the same shape. The through-hole after processing and enucleation is not like the through hole after processing by other equipment. The hole is small and large, but it is small. Both ends have the same hole size, can retain more flesh, and go to the nuclear flesh form standards, the damage of the flesh is small. After the jujube boil, both ends of the hole are small and beautiful, which is most suitable for canning. It is easy to operate, safe, time-saving, labor-saving and high-efficiency, eliminating the need to worry about all the inefficiencies of manual, pedal, and roulette, etc., inefficiency, artificial exertion, sore hands and feet, and insecurity.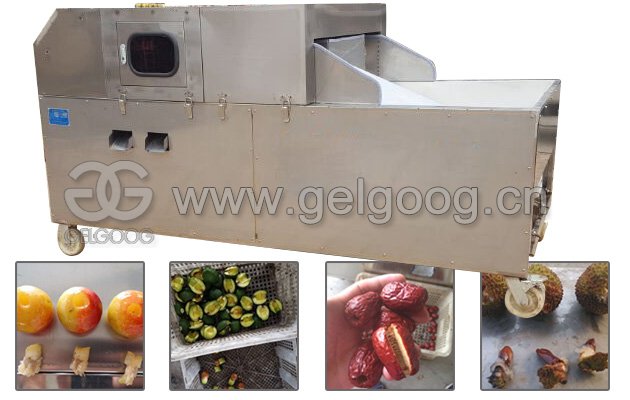 The date pitter machine is made of stainless steel 304, it meets the requirements of food hygiene; it can be set up on the assembly line, fully automatic production, and labor intensity is low. An integrated line that can be attached to fruit and fruits of stone fruits. In addition to the overall machinery, in addition to the discharge port, it is a fully enclosed mechanism with good spectrum protection. The two rollers kept rotating, and 70% of the fruit on the fruit was pressed into the gap of the gear roller. The core was squeezed into the elastic rubber roller. The weight of the machine was small. The square of the equipment occupied was 1.9 m2. Plant design can be produced. This equipment has a square occupancy of 1.4m2 and can be produced without factory design.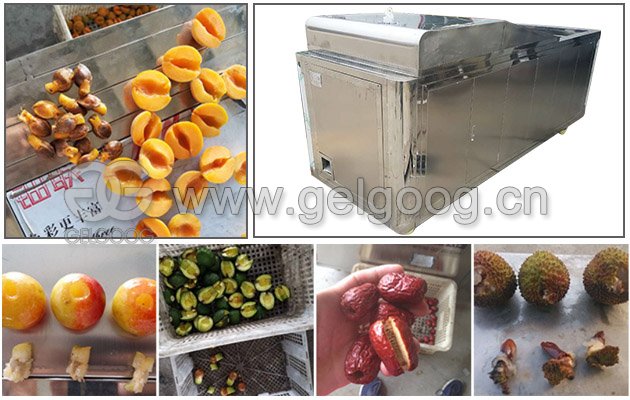 Advantages of Red Dates Pitting Machine:
Wide adaptability, large range of size compatibility. Suitable for ash date, date, beach dates, gold silk jujube, horse teeth jujube, South Korean jujube, olive, and other long-round shape of the fruit.
Functionality: It can be used to date the effect of red dates and dates, and to remove the half-cut effect. The nuclear nucleus rate is extremely low, and the shape of red dates and dates is not easily deformed after nucleation.
Henan GELGOOG Machinery Co., Ltd., for the majority of users a variety of specifications, various uses of nuclear power machines, including hawthorn nuclear machine, jujube, red fruit, cherry, olive, bayberry, date, peach, apple, pear and other automatic Fruits to nuclear machines, washing machines, slicing machines, dryers and other equipment wholesale and retail, quality and cheap, after-sales improve, welcome new and old customers to consult the purchase.