Introduction of Fresh Broccoli Washing Machine
The Broccoli washing machine is a bubble-type spray cleaning machine. The material falls into the water, and the material is stirred and cleaned by the churning water in the tank. The material is in a tumbling state under the combined action of the bubble machine and water. The material is in a tumbling state, and the heavy dirt such as sediment on the material is detached and falls into the sedimentation area under the filter screen. It is lifted out of the inner tank. When the water comes out, the high-end is equipped with a spray head. After spray cleaning, the material is washed twice and enters the following process.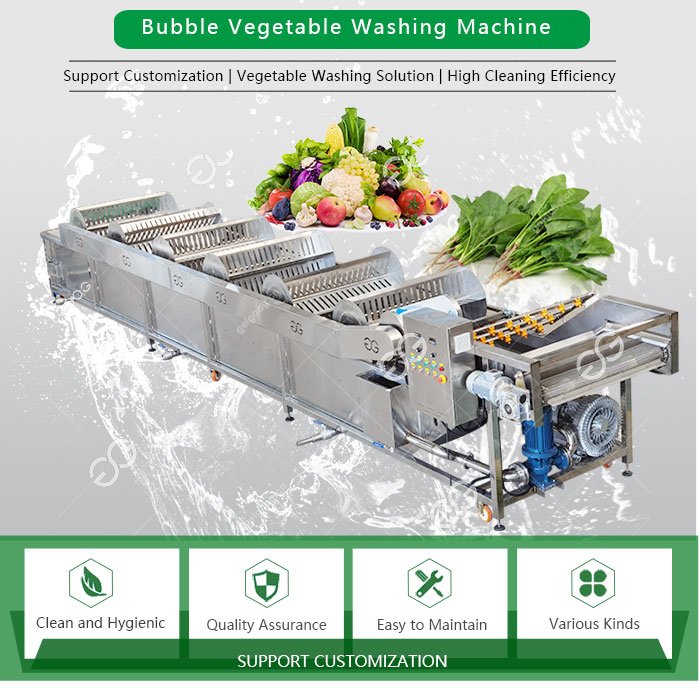 Circulating water pump surfing, ozone sterilization and high-pressure water spray four-fold cleaning, remove pesticide residues and impurities on the surface of the product, so that fruits and vegetables and other materials can be thoroughly cleaned.
A filter and impurity removal device is set up to effectively separate impurities such as rotten leaves, vegetable residues and hair on the vegetables, which flow out from the overflow outlet of the circulating water, and the sediment is discharged from the outlet and isolated by the filter screen in the circulating water tank to keep the vegetables clean.

The advantages of the vegetable washing machine are thorough cleaning, large cleaning capacity, ozone sterilization to assist in cleaning drug residues, and no damage to leafy vegetables.
During the cleaning process, the spray and high-pressure nozzles provide continuous water supply, and the water supply volume is adjustable, which is convenient for flexible adjustment according to the vegetable processing volume and cleaning degree.
This equipment is widely used and economical equipment in the fruit and vegetable processing industry.