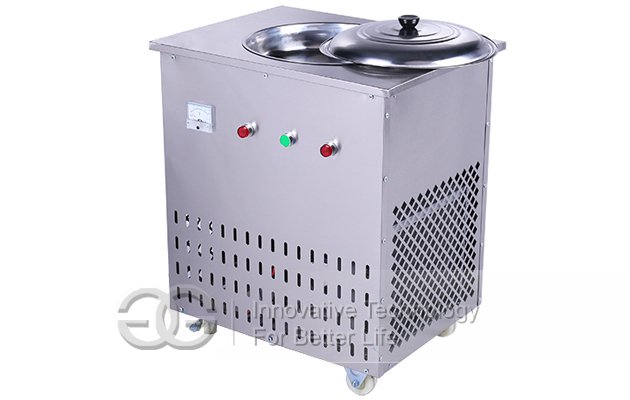 Round Ice Frying Pan Machine
is one hot sale model machine. It is single pan, small, easy to use and move. It can be used to fry any sugary liquid, like juice, sugary drinking, milk, coffee, yogurt, ice cream etc. When using machine, only need to open machine, adding material of frying, during frying, need to stir, only need 3-5 minutes, can finish frying. During work, if material is freezing too hard, press defrost bottom 2-5 seconds, melting it. Notes. After closing machine, you'd better not open it in 3 minutes, avoid close and open machine frequently.
Advantage:
1.Most hot sale model. It is most popular model for clients, single pan, small, easy to use, clean and move.
2.Beautiful and elegant performance, compact structure. Brand compressor, and use refrigerant R22, R410 and R404 as choice.
3.Working speed is fast, frying one time, need only 3-5minutes.
4.Easy to operate, can be used in any place, like school, market, shop, railway station, tea restaurant etc.
5.Small investment. We also manufacture different types of
Fried Ice Cream Macine
with single flat pan, double pans,etc.