Introduction of Potato Chips Making Machine
This potato chips production line is the best choice for making potato chips with low investment and power consumption. This whole line is made up of potato washing peeling machine, potato cutting machine, blanching machine, dehydrating machine, frying machine, deoiling machine, flavor mixing machine and nitrogen filling packing machine.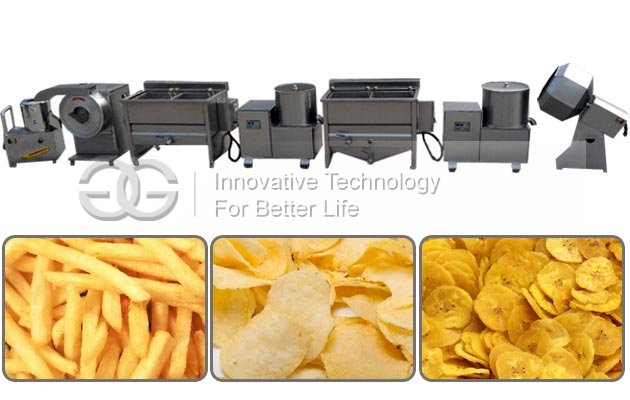 Fried Potato chips is one kind of snacks processed from fresh potato after washing, peeling, slicing, frying and flavoring, and it remains the special delicious flavor of roasted potato on one respectand has the characters of rich nutrition, delicious. it is very popular among the customers all over the world.

Production Process of Potato Chips Production Line
1. Peeler: This machine can clean and peel potatoes at one time, high efficience and low consumption.
2. Cutter: This potato cutting machine is used to cut potatoes into slice or strip type, cutting size is adjustable.
3. Blancher: Do rinsing and color protection of the cut potato chips.
4. Dehydrator: Centrifugal dehydration, reduce the time for drying, and improving the taste of fried potato chip.
5. Fryer: Oil water mixing technology, suitable for frying all kinds of fried food, such as french fries, potato chips, etc.
6. Deoiler: Use the centrifugal oil removing principle, overcome the shortcoming of botheration.
7. Flavoring Machine: Make the potato chips turning even, use the spray type to add the seasoning, not easy to break.
8. Vacuum package machine:when packing, put into nitrogen, can avoid break of the potato chips. And it can aeration, package, and type the date at one time.

Advantage of Semi Automatic Potato Chips Making Machine
1.make potato into fried potato chips
2.with capacity of 70kg/h
3.semi automatic type
4.energy saving,labor saving,low noise,easy operate,easy clean
5.Used for potato chips,sweet potato chips,french fries,cassave chips,etc.
6.All the machine in the potato chips making machine is made of stainless steel . It is good to health and easy to maintain.
7.Potato chips making machine is very easy to operate. One worker could control two machines. Saving labor cost.
8.Motor of the whole line is fully enclosed,so it has no danger to human being