Flow Chart of Automatic Almond Cracking Shelling Equipment
The almond processing equipment is suitable for large almond production, hulling clean, high complete rate, easy to clean. This shelling processing equipment is a ideal choice for large shelling processing enterprises to improve efficiency, reduce cost.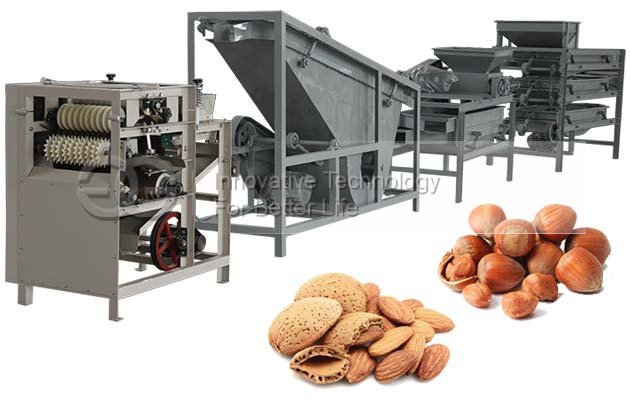 Application of Almond Processing Machine Equipment
This shelling machine line is suitable for processing almond, hazelnut, palm, etc., with goof shelling effect.
Detailed Intorduction of Hazelnut Shelling Machine Line
1, The almond or hazelnut through the elevator into the screening machine, and then nuts are separated into small, medium and large three levels, through diving hopper respectively into three almond hulling machine.
2, Almond hulling machine: The shelling clearance of huller is adjusted to corresponding size according to the size of raw material almond, achieve nut shell clean and complete, shell and kernel respectively into three almond shell kernel separator.
3, Almond shell and kernel separator separate almond shell and kernel, a mouth discharge almond kernel, another mouth discharges almond shell.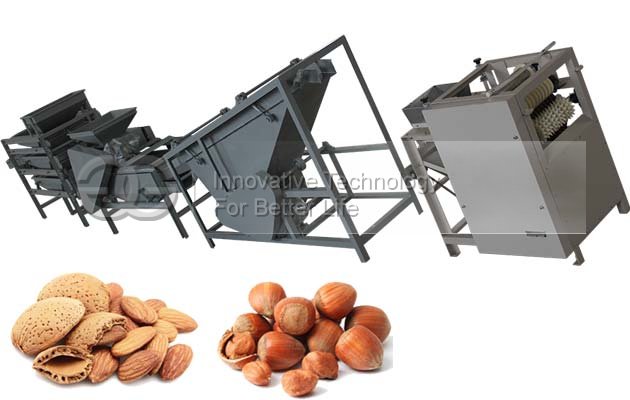 Our company has strong research and development strength, strict management system, advanced production technology, perfect products and superb after-sales service, win our leading position in nuts, soft fruit peeler and huller machinery in the domestic market. Our almond processing equipment has exported to Europe, United States, Southeast Asia and other countries and regions.