Automatic Sesame Tahini Production Line Introduction
The automatic sesame tahini production line is used to produce sesame tahini with producton capacity 1000 kg/h, and the whole line consists of sesame baking oven, coarse sesame paste grinding machine, mixing tank, pump, homogenizer, fine sesame tahini grinding machine, vacuum tank, cooling machine, filling machine, etc. This production line is featured by assembly operation, high mechanization, good reliability, all closed production, no pollution, ideal processing equipment for the production of stable sesame paste.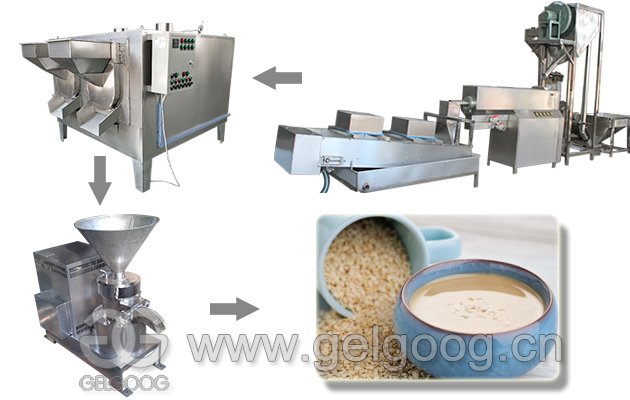 Tahini Processing Line Production Process
Grading sesame materials -- Sesame seed roasting -- Cooling -- Peeling -- Degassing -- Mixing -- Sesame paste grinding -- Tahini packaging

Sesame tahini production line is specially designed and developed for making sesame tahini. The fineness of sesame tahini is adjustable from 100-120mesh. If you need sesame tahini production line for large capacity and further fineness, we can supply large capacity sesame paste grinder machine to upgrade the tahini production line.

Main Equipment of Automatic Tahini Production Line
Sesame seed roaster machine: Used for roasting sesame seeds, which can be customized for gas or electric heating, and the production capacity and processing procedure also can be customized.
Cooling belt: The baking sesame is cooled by using the fan to remove the hot temperature after roasting.
Sesame peeling machine: Dry and baked sesame seeds are peeled, and the dermis is automatically separated during peeling to ensure the quality of the peeled sesame.
Picking belt: Select unqualified sesame seeds and some food residues.
Sesame paste grinding machine: Grind sesame seeds into sesame paste, can improve grinding fineness by grinding again.
Condensing machine: Cool the ground sesame paste.
Degassing tank: Remove gas from sesame paste before filling.
Filling: Filling and packing sesame tahini into bottles, filling quantity can be adjusted.
Advantages of 1000 kg/h Tahini Production Line for Sale
1. High output, advanced product design and technology, stable and reliable, mass production can improve labor productivity, and improve product quality, improve labor condition, reduce production area, reduce production cost, shorten production cycle, guarantee the processing balance.
2. Simple operation and maintenance, beautiful generous appearance; Compact structure, smooth working, low noise and long service life.
3. Machine uses the food grade stainless steel parts and materials, strong and durable.
4. Different capacity to meet customers different demand, output, good effect, saving time and effort, energy efficient, safety and health without pollution.
5. Electrical safety in line with national standards, security and reliable.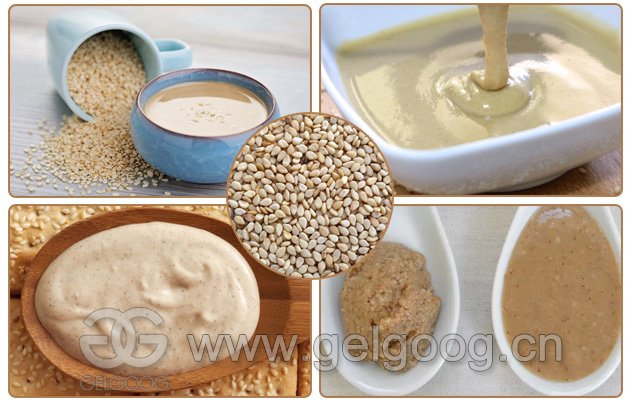 Sesame seeds are rich in fat and protein, after high temperature baking, removing skin, grinding into sesame paste, add stabilizer to make stable sesame paste. The production line of tahini can produce high quality stable tahini, granular tahini and ordinary tahini. It can also produce stable and regular sesame paste. As manufacturer of tahini production line, our factory provide good quality machines with factory price for sale.