General Introduction for Small Masala Powder Packing Machine
This automatic masala powder packing machine adopts single chip microcomputer control, accurate and reliable action, compact structure, fine workmanship, cutting can choose two forms of straight line and tooth shape. All English menu, simple and clear operation, the bag length is adjustable for cutting. Different bag width can be achieved by changing the size of the molding tool. The shell of this sachet powder packing machine is made of stainless steel, easy to clean, beautiful and generous in appearance, suitable for GMP standard in pharmaceutical industry. By changing the structure of hot seal, it can be made into three side seal and four side seal. It can also be equipped with high-speed inking machine, which can print colored production date, product batch number, expiry date and other relevant information on the bag.
Small Sachet Powder Packing Machine Application
his machine is suitable for fine powder packaging materials in food, chemical industry, medicine and other industries, such as soybean milk powder packaging. Can pack medicine powder, veterinary medicine powder, fruit powder, lotus root powder, oil powder, starch, and products with strong viscosity or high dust. This machine is suitable for packaging materials BOPP /PE, OPP/ aluminized /PE, nylon /PE, film spraying paper, PET/PE, tea filter paper, BOPP/ aluminum foil /PE, etc. The machine has high requirements on the outer temperature resistance of the packaging material, and the outer material is not easy to deform when the sealing temperature is appropriate.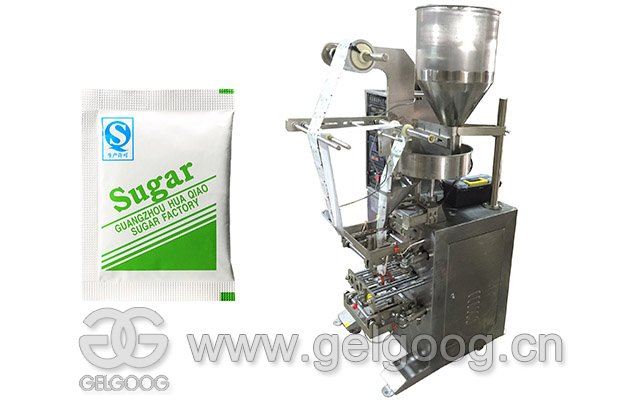 Features of Masala Powder Sachet Packing Machine
1. Three-side sealing of the bag, beautiful shape of the bag;
2. The machine can automatically complete bag-making, measuring, filling, sealing, cutting, counting, printing batch number and other functions;
3. Adopt advanced microcomputer controller, photoelectric switch positioning, drive step motor control bag length, easy adjustment and simple operation;
4. Easy to operate, bag-making precision, stable and reliable performance, and operating instruction be clear at a glance;
5. This machine is elegant appearance, stainless steel structure, with food and medical packaging hygiene requirements.

If you want to know the price of sachet powder packing machine, leave your specific requirement and eamil here, our sales will send you quotation with price to you soon.