Introduction of Gelgoog Fruit Vegetable Washing and Drying Machine
The fruit and vegetable washing and drying line is composed of vegetable washing machine, vibration wind drying equipment, vegetable drying line, and vegetable cutting machine. The combination of this vegetable washing line is tailored according to the fruit and vegetable processed by the customer and the process flow.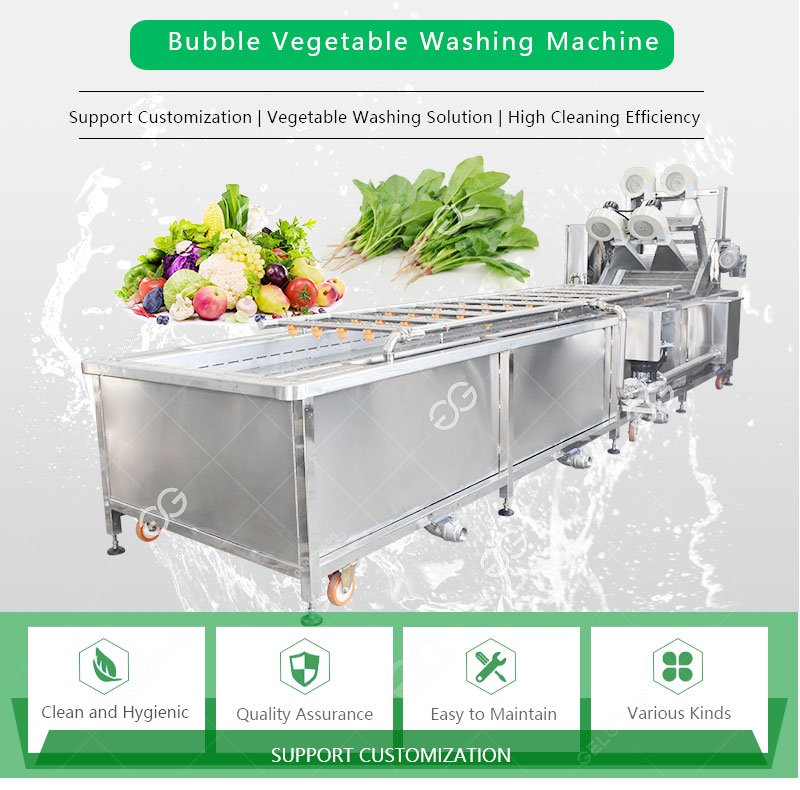 The entire vegetable washing line is made of 304 stainless steel. It can effectively clean fruits and vegetables, remove water droplets on the surface of fruits and vegetables, shorten the working time of packaging, improve work efficiency, and is suitable for production-based assembly line operations.
The fruit and vegetable cleaning and drying line can be used for the cleaning and processing of fruits and vegetables, such as apples, jujubes, spinach, cabbage, lettuce, toon, daylily, and beans.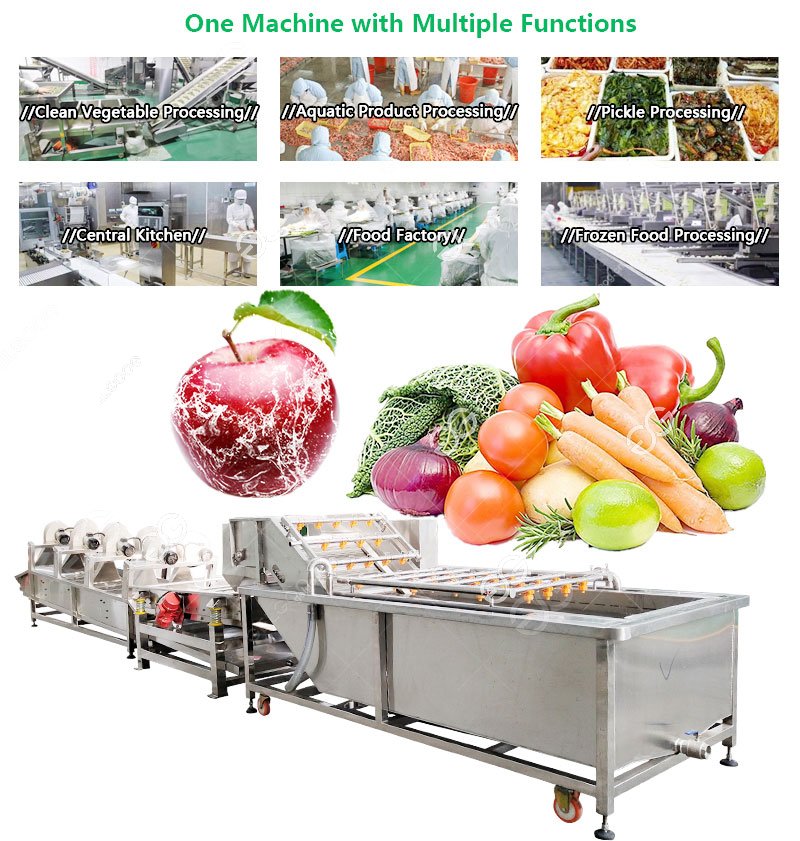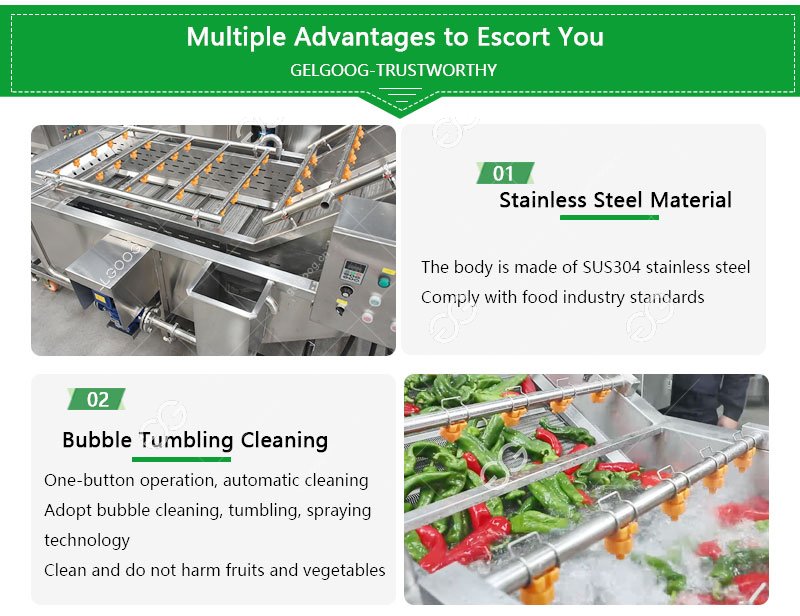 Equipment characteristics of Vegetable Washing Line
vegetable washing machine
The equipment is made of 304 stainless steel, and the air bubbles are rolled by a strong-flow turbo fan to clean the materials flexibly. The upper end of the cleaning machine is equipped with a spray device, and the material is transferred to the upper spray area through the mesh belt for secondary cleaning. The nozzle is a detachable nozzle, which is easy to clean and prevent clogging. The nozzle angle can be adjusted to clean the material more effectively. There are inner baffles on both sides of the mesh belt for easy cleaning.
The vegetable washing machine has stable conveying and adjustable speed. The material moves along with the conveyor belt, which can avoid damage to the conveyed material. The equipment has a simple structure and is easy to maintain. The energy consumption is small, and the use cost is low.
Vibration Dewatering Equipment
Driven by the motor, the vibration damping spring causes the screen surface to perform regular mechanical vibrations, thereby removing the large water droplets on the surface of the product, and pre-processing the product for air-drying, greatly increasing the effect of the subsequent air-drying equipment and reducing the energy consumption of air-drying. Save energy and improve the drying effect.

Vegetable Drying Line equipment
The vegetable air trunking line mesh belt is an overturning type, and the material will be constantly overturned during the traveling process, so that the strong wind of the fan blows the food evenly. The equipment is designed in sections, the front section is air-dried by normal temperature wind, and the middle section is a large-volume axial fan.