Technical requirements for automatic quail slaughter line:
1. The production line of quail poultry slaughtering equipment developed by GELGOOG slaughtering equipment factory has a high degree of automation, stable performance, safe and convenient operation and long service life; It is a domestic advanced quail slaughtering and processing line.
2. Stainless steel T orbit. Small wheels made by nylon material. The shock is dizzy, slaughter, drain the blood, hair removal, eviscerated, cleaning, precooling, segmentation, packaging and other process to realize the whole line processing.
3. Suitable for mass slaughter of rare birds such as pigeon, partridge, quail, etc.
4. Can customize different specifications according to customer demand design and production of quali slaughter production line, and the slaughtering production is from 100 to 7000 pieces per hour, customers can choose any different slaughter quantity production line.
5. The price of the whole set of quail processing equipment is calculated and quoted according to the material, model, specification, quantity and output of the equipment required by the customer.
6. Several quail automatic slaughter production lines have been installed in China, also abroad.
Basic process flow of Quail Slaughtering Processing Equipment
Pigeon or quail hanging up -- Electric hemp - Leach - Blanching -- Depilate - Bore - Spray -- Pre-cooling -- Dividing -- Packing and warehousing
Main Equipment for Automatic Quail Slaughter Processing Line
Suspension conveyor line, electric hemp machine, blanching machine, depilating machine,spraying machine, precooling machine, and conveyor table.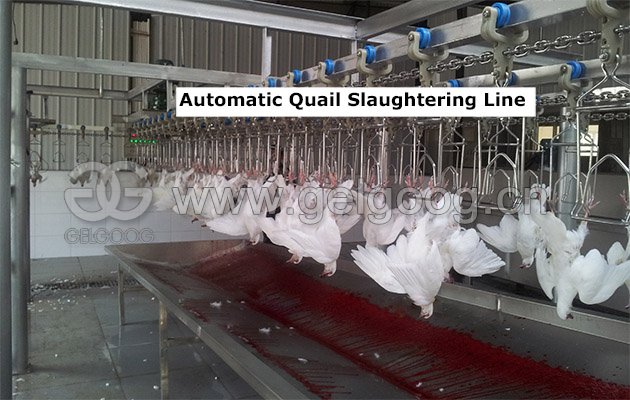 Meat pigeon, quail and other slaughtering production lines are for reference only because of their different output. For specific price, please kindly inquire mobile phone/whatsApp: +86 18595717505 WeChat: 18595717505 QQ: 3021821625.