The flour coated peanuts making machine line is developed based on the introduction of foreign technology, combining with the national conditions of our country under the research of the technical personnel, a kind of new generation products with advanced, practical and low price. The whole line can realize the automatic flow production, can save labor, reduce the production cost to a large extent, and can be customized according to the production size of customers.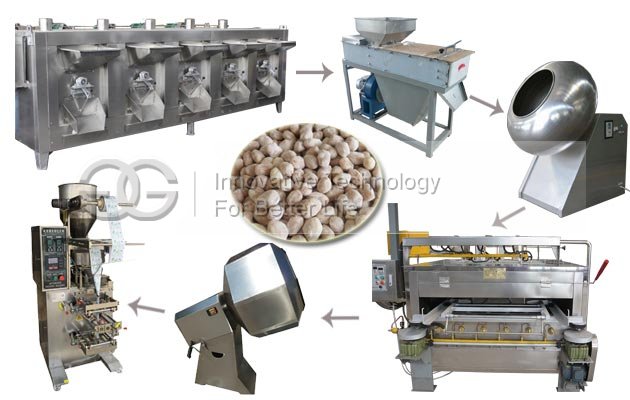 Process Production: Coating - drying - roasting - cooling - packaging
1, Peanut coating machine is special equipment for surface coated peanuts, after this equipment processing, coated peanut surface is smooth, can reach the standard export processing, has the characteristics of the smooth movement, low noise, no pollution, suitable for making chocolate peanut, fishskin peanuts, Japan bean, crisp bean shrimp, spicy bean a dozen kinds of products.
2. The swing roasting oven adopts the plane swing mixing function, using gas, coal, electric heating mode, speed adjustable, mainly to coated food baking, equipped with the clutch and temperature display device, automatic feeding, automatic discharging, whereas high productivity, baked goods breakage rate is low, colour and lustre is uniform, no pollution, ideal processing equipment for Japan beans, pistachios and other granular food.
3. The octagon flavoring machine is made from stainless steel material, which is the main equipment of peanut and other food processing ingredients, adding materials and stirring.