Small scale stick noodle processing line
has high production capacity, good safety performance, high degree of automation, humanized design, easy to operate. Seven groups molding press roller, stainless steel packaging. Multiple sets of rolling, uniform feeding, tidy panel. Reducer, sprocket chain transmission, low noise, long service life. Automatic transmission, one time molding, automatic noodles cutting, automatic lever, saving labor. Operation safety, sanitation clean. Roller clearance synchronous adjustment.Sheet folding automatically, automatic cutting, automatic transmission products, automatic dusting powder on both sides, free to adjust speed. Can be used to make noodles, wrappers, wonton skins. 3 kw motor, voltage 380 v, yield 300 kilograms per hour.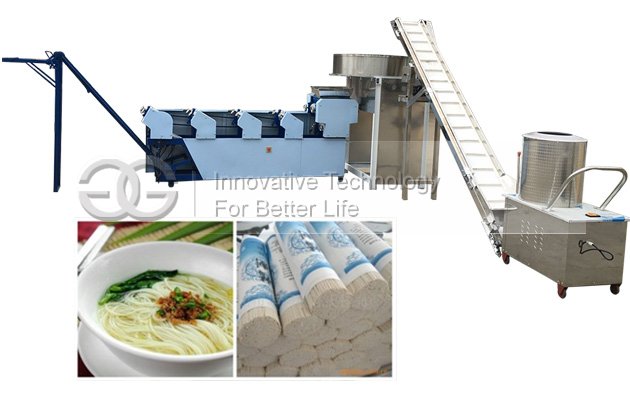 Main Machines of Dry Noodle Production Line
This small capacity stick noodles making machine mainly consists of flour mixer, feeding machine, dough aging storage machine, noodles cutting machine.
Dough Mixer: This machine can mix 200 kg hour per hour, is ideal equipment for noodles production.
Flour Feeding machine: The mixed flour through feeding machine is sent to flour aging storage machine, can convey 300 kg per hour.
Flour Aging Storage Machine: This machine is used to age and store mixed flour, ready for next stage- noodles making.
Noodles making machine: This machine has high automation, can produce different sizes of noodles by changing mould, according to customers' demand, there are many type for selection, has 5,6,7,8,9,10 rollers for your choice.