The tranditional processing of sesame candy is made by hands, however, nowadays it is replaced by automatic sesame candy making machine. The current production line is composed by sugar melting pot, mixing machine, pressing machine, forming cutting machine, convenying belt, and sesame candy packing machine. This unit adopts advanced technology to make sure of the stable performance, it is of high automation and it is more superior than other same candy equipment.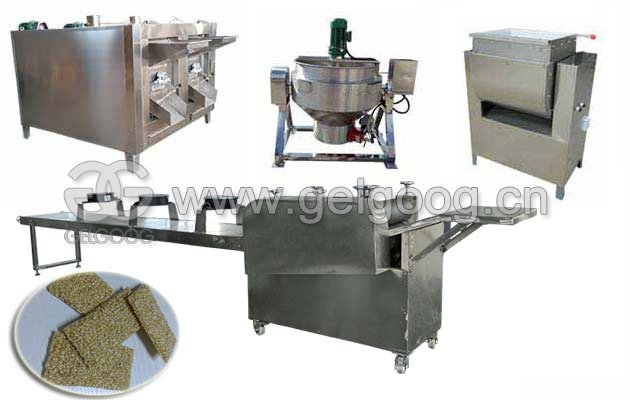 Sesame Candy Production Line Technical Performance
The production line can realize continuous feeding, shaping and cutting machine. It adopts frequency conversion adjustment, accurate cutting size and good formability. Continuous production of the whole sesame candy making machine, no need manual working, truly automatic, intelligent operation.
Scope Application of Commercial Sesame Candy Making Machine
Sanqima, mihua sugar, egg potato crisp, peanut sugar, melon seed crisp, peanut crisp, sesame crisp and other food automatic chip formation.

Features of Automatic Sesame Candy Production Line
1. The size of sesame candy produced by this line can be customized;
2. Mechanical soft pressure will not damage nut particles with more elegant molding. Direct mould pressing and molding can be free from rework, which saves materials cost and wastes;
3. The whole machine is in mechanical transmission instead of pneumatic pump; positioning is precise;
4. Converter with high performance is equipped, which makes speed regulating more convenient, high efficiency and stale performance;
5. All the moulds and hoppers have been conducted with anti-stick disposal;
6. All the links contacting the goods are the nonpoisonous and harmless materials;
7. The length of the cooling conveying links can be changed or cooling fan can be equiped based as requirement