Peanut Brittle Making Machine Flow Chart:
Raw peanut--- Peanut roasting machine---Peanut peeling machine---electric sugar boiler---Mixing machine---Conveyor---Peanut bar cutting machine---Automatic pillow packing machine.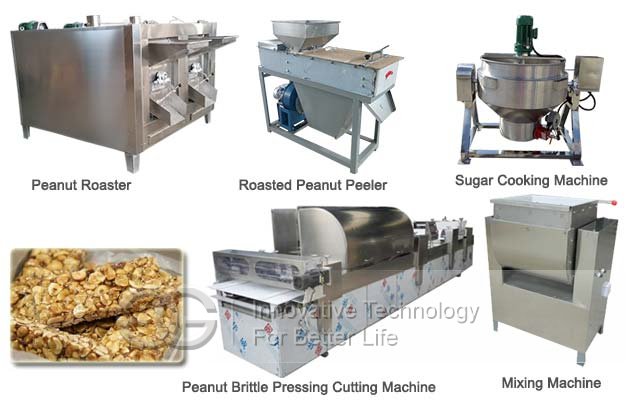 Advantages of Peanut Brittle Production Line
It is made up of heat preservation blender, pressing machine, length and breadth cutting machine. This machine is made of 304 stainless steel. It adopts microcomputer control ,automatic correct dimension automatic feeding recruitment. he brittle size can be adjusted according to the requirements. he transmission system is concise, clear. Dual frequency conversion control, leveling, cut a molding. With multiple re-level structure, suppression of smooth, uniform thickness. Advanced frequency control products to meet your needs. Automatically cutting, saving time, labor and economic convenience.
1. PLC control to confirm the size of cutting
2. Continue working
3. Easy operation, reliability, easy cleaning and maintenance;
4. Accurate cutting and simple changeover. Fast conversion to the other cutting lengths by PLC
5. Servo-controlled accurate movement;
6. Automatic belt tensioning; Lifting and lowering of the circular knives-easy and quick.

Application of Peanut Brittle Production Line
It can be widely used in food producing and packing line including the area of French bread, pie, Swiss rolls, peanuts, sugar, pineapple cakes and other production line.
We has developed the automatic line for the modern candy bar and cereal bar production. Its progressive technology, reliability ,the easy of the operation ,and flexibility are appreciated by our customers. We can plan,layout ,supply and start-up your complete bar line from the kitchen,process, through the packaging.

The automatic
Peanut Brittle Processing Line includes heating, mixing, platen, cutting and packing. It is mainly for peanut brittle, sesame candy, cereal brittle and so on. The production line consists of heating and stirring, reciprocating platen, automatic cuts composition, with simple operation, stir the finished size, weight consistent. Far infrared heating, nonstick sides of casks, Stir Evenly, nonstick pot. Automatic control reciprocating motion, the average level. Automatic dicer, a molding, product size, weight consistent.
This line is made up of pressing machine, length cutting machine, breadth cutting machine. The exterior of the machine is made with type 304 stainless steel; it is suitable for automatic forming for swelled candy rice, sachima, nut crisp, peanut brittle etc.