The
automatic wafer biscuit production line
is based on the actual situation of biscuit manufacturing, and it has absorbed the design and manufacture of the most famous wafer production line in foreign countries. The surface of the baking wafer is uniform, and the wafer cream is evenly spread and cut straight. The machine runs smoothly without abnormal noise. The production line has the characteristics of reliable performance, high yield, low energy consumption, convenient maintenance, simple operation and no pollution. All electrical and mechanical parts of the machine adopt international/domestic famous brand and long service life. 304 stainless steel and food grade PU belts are used in all contact food parts, which meet the hygienic safety standards.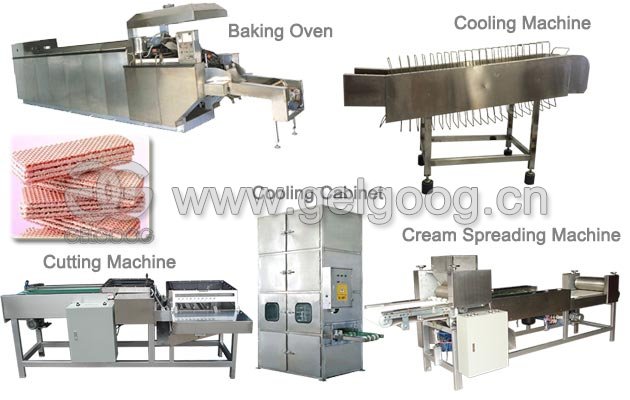 The function of the baking oven is fully automatic from spreading batter on the plates through until baked wafer sheets come out of the oven. Adopting hearing-medium conduction technology with heating oil as medium,the plant is a new generation product developed exclusively in China based on the advanced structure of existing plants from domestic market and abroad.If offers an ideal solution for lower power consumption and overall production cost,and keeping the same surface color for all biscuits.
Details about Automatic Wafer Biscuit Production Line
The plant mainly consists of mixing system,automatic feeding system, tunnel-type oven, sheet feeding and cooling device, coating machine,cutter and organic heating medium boiler, etc.With compact structure and unique reliability, the plant is one of the most preferred equipments in foodstuff industry.
Except the oven mould, the machine contact food part all is made of stainless steel, we also can customize the whole stainless steel production line.
The electric controlling model is safe, easy to operate. It also is environment protection model.
Advantages of Wafer Biscuit Making Machine
1.Reliable performance, stable operation, long service life. All motor, electrical equipment ,PLC, bearing adopts international and Chinese famous brand
2.Reasonable layout, compact structure, small occupation, the body length of the baking oven is only 2/3 of the same type of product.
3.High automatic, stand-alone machine can be controlled separately, simple operation and easy maintenance
4.High demoulding rate and finished product rate of no less than 98%
5.Special energy conservation design, low energy cost, can reduce pollution to an extreme
6.Machines' material comply with food hygiene standard, all parts which is connected with food are adopt stainless steel
7.We have several kinds of moulds which can produce different flower shape.