The peanut chikki making machine has roundtripping flat pressing, automatic cutting machine three units. Pour the well mixed material according to the component into the mold, about 4-6 kg for a plate on the flatpressing set for pressing, namely cooling for several minutes, and then can be sent to the corner horizontal and vertical cutting, has the simple and convenient operation, output up to 150-200 kg per hour. The finished product is almost same in size and weight. The material of the cutting machine and the contact part of food accord with the food safety and hygienic standard.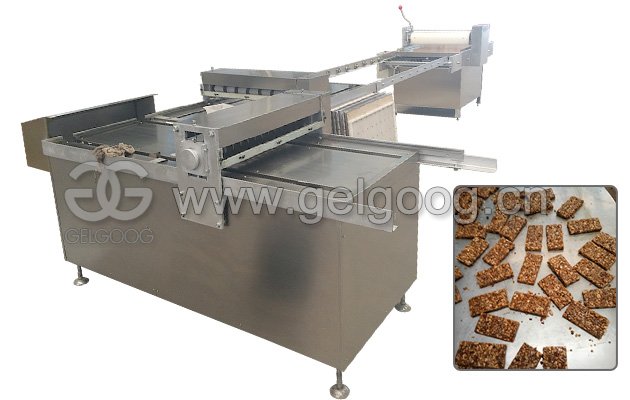 Can cut peanut brittle into 117*57*8(L*W*H) mm. 85*33*8mm (L*W*H)size, etc. This peanut chikki making machine is mainly aimed at the production of square block products flow production, such as caramel treats, crunchy rice candy, peanut cake, peanut candy, nut crisp, sesame candy, etc. This equipment USES the secret knife, produces the small square, can cut the peanut candy, the sesame candy, the melon seed sugar, the food size that cuts can press the request to be made to order. Easy operation, uniform slices founder, is ideal equipment for self-employed, large and medium-sized factory replace manual making, greatly reduce the labor intensity of workers, improve the production efficiency and reduce labor costs.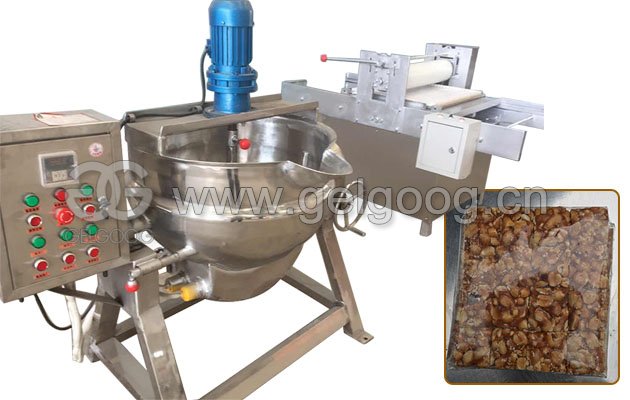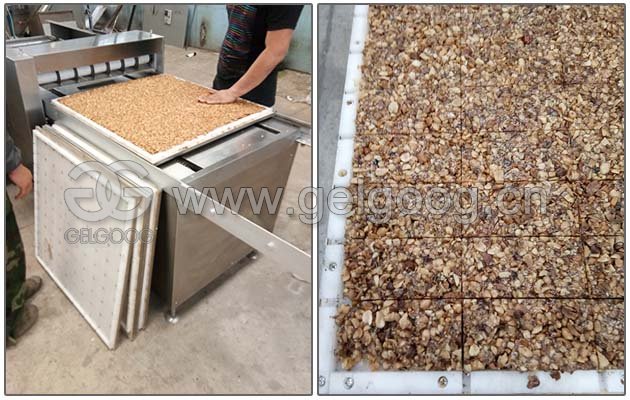 Main Performance and Structural Features of Kadalai Mittai Making Machine
1. The production line is composed of heating, reciprocating pressing and automatic cutting, with simple operation and uniform mixing of finished products.
2. Far infrared heating, not touching the wall of the barrel, stirring evenly, not touching the bottom of the pot.
3. Automatic control of reciprocating movement, with average pressure levelling.
4. Automatic cutting machine, once forming, product size, and weight consistent.

Working Video of Peanut Chikki Making Machine

Pre-sale service
In order to win the market for the customers, the company conducts the upfront cost accounting, the market information analysis, the factory design and the planning to make it perfect.
Production technology training: OUr factory is responsible for the customer after-sales service, make customer master equipment operation, maintenance, maintenance and other professional knowledge, the company has special professional technicians on-site installation, commissioning and guarantee customers to produce qualified products.
After-sales maintenance service
Company has technical service special hotline, and solutions for customers in time, ruled out the various problems in the process of production, and is equipped with a full-time technician visit between the masses of customers, in a timely manner to provide users with equipment repair, maintenance services.