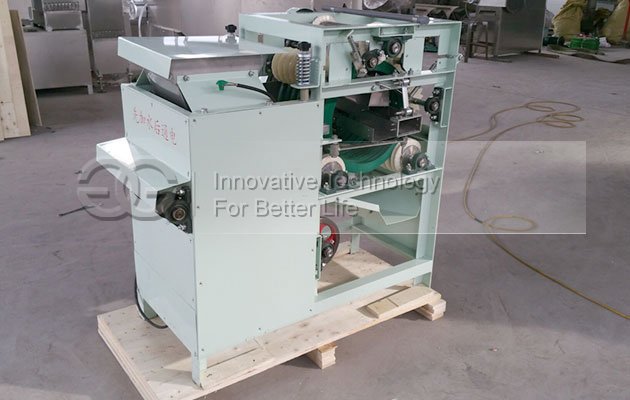 This series
almond peeling machine
was sold to India, and this peeler machine is designed for Fried peanuts, peanut butter and design, special wet peeling machine, parts contact with material all adopt stainless steel materials (customer requirements can be customized), peeling rubber ring is made of high quality rubber vulcanization, abrasion 0.1-0.4 mm/10 km, service life is 3 times more than ordinary aprons. Before peeling respectively use hot and cold water immersion, for peeling, peeling after granulation is not broken, protein invariance, avoid the Fried peanuts Browning phenomenon in the process. Keep food in the process of Fried peanut flavour, fruity and unique flavor. The main technical parameters for the peeling rate is 98% plus or minus 2, broken rate less than 3%, the whole kernel rate is 85% plus or minus 5%.
Basic Structure of Almond Wet Peeling Machine
Adopt the way of discharge, and effectively reduce the engine vibration,less loss, skin and kernel automatic separation, suitable for family workshops.