The
automatic cellophane packing machine
is widely applicable to the automatic film packing (with gold tear tape) of various single boxed articles. This cellophane packing machine is mainly suitable for pharmaceutical, food, health care products, cosmetics, audio-visual products, electronic products and other industries items, as for drugs, chewing gum, health care products, tea, sugar, condoms, rubber, mosquito-repellent incense, cigarette, tape, VCD discs (CDS), playing CARDS, transparent soap, square type batteries, such as a floppy disk box type product outer membrane wrapping package, achieving anti-counterfeiting, dust-proof, moisture-proof function, improving the grade of products and product added value.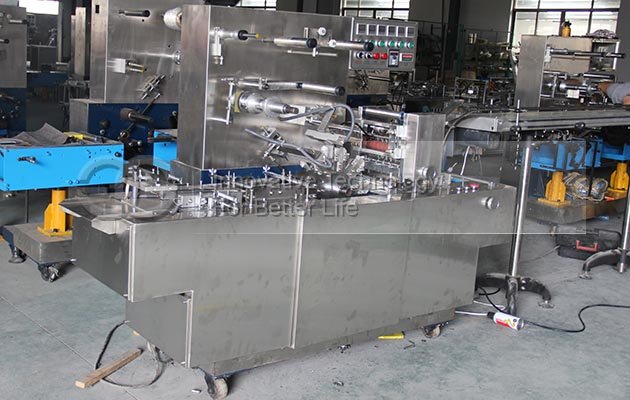 With new-type of double safeguards, no need to stop machine, other spare parts will not be damaged when the machine runs out of step.Original unilateral hand swing device to prevent shaking the machine adversely, and the non-rotation of the hand wheel when the machine keep running to secure the security of the operator.
No need to adjust the height of worktops at both sides of the machine when you need to replace mould, no need to assemble or dismentle the material discharge chains and discharge hopper.