Innovation Drives the Development of Industry to Follow the Trend of Intelligence and Automation
2016-11-17  By  admin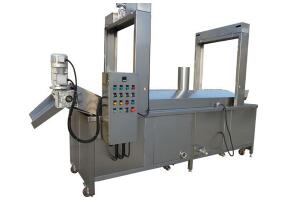 Living in the contemporary society of technology,the most important point is innovation.Innovation is the core for the survival and development of a company.Now,the trend is intelligent and automatic.So what matters very much for the food machinery industry is the above two points.And innovation is the foundation.Only by making constant innovation can we guarantee the quality and safety of foods that will finally be delivered to consumers.
The automatic continuous frying machine innovated by us follow the present trend of intelligence and automation.It's controlled by programmable logical controller.It can automatically fry material efficiently.And the PLC technology make it intelligent so that it will be easier for the operator to handle.
And it takes stainless steel as the material.Thus it's very safe and healthy.
What's more,the oil-water mixture frying pattern will help us save much oil so that the cost will be reduced a lot.
Looking forward to receiver your inquiry.Please contact us if you're interested in this excellent machine.
Whatsapp:
0086-185-3993-1566