Redwood 's material, texture, color are affect the net worth of red chopsticks grade, a perfect work of art is the perfect combination of red chopsticks quality beauty and artistry of beauty. Therefore, identification of red chopsticks, identification of its materials is a major factor.
Identification of red chopsticks material is a scientific sense. Although not much mahogany species, varieties of red chopsticks timber is countable by the usual several red chopsticks timber production mainly ebony, rosewood, ebony, wenge, rosewood, rosewood, in these materials in rosewood and wenge features more obvious, it is also easier to identify, but rosewood, rosewood, painted decoration after finished to correct the difference is not so easy. Knowledge of the properties of each wood material can correctly identify a variety of materials is to identify the basis and premise of red chopsticks.
The difference between yellow rosewood and rosewood, the former clear wood, fine wood, hard texture, color and elegant, was brown or pale brown, Hainan reddish brown, dark brown and have beautiful ripples shaped markings; the latter wood coarse grain, texture straight, but most are not very clear, nor former hard wood. Thai-made pear brown, wood more delicate, color than the run, while Myanmar, Vietnam produced pear thicker, larger color; texture clear rosewood from Thailand, Myanmar rosewood texture big radiate black, wide.
Wings of wood due to the texture and yellow color was black, then yellow and black wenge respectively, wenge texture gorgeous, like water waves floating, and if the golden pheasant feather color, more beautiful than dark wenge wood bright yellow wings, and therefore more precious .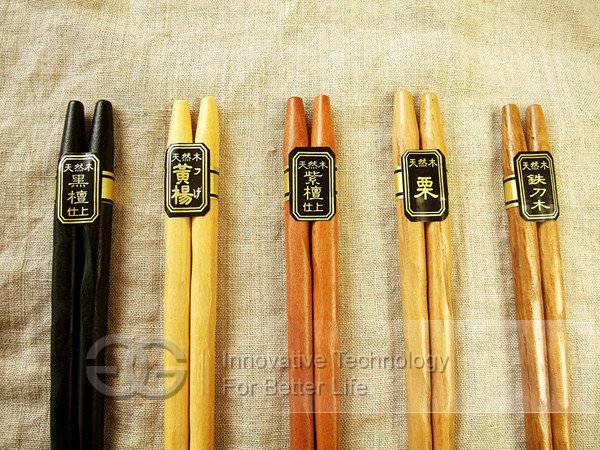 Red rosewood sandalwood approximate color, texture hard, dense, usually called "old wood", only refers to red rosewood. Recently, someone charged with rosewood Rosewood, because two kinds of wood are fine, paint color a deep were often difficult. This method is red wooden chopsticks difference between the two, mainly from the texture or color to distinguish. Rosewood has temples eye, but less substantially aligned. Black rosewood long time, but the original is not dark, but brown and dark red.
In short, the recognition of red chopsticks making materials, or to rely on long-term physical observation and long experience.
use. These experiences in a sense is not the usual behavior, but a stable scientific awareness, and understanding of the material properties and processing are the basic skills of each craftsman.