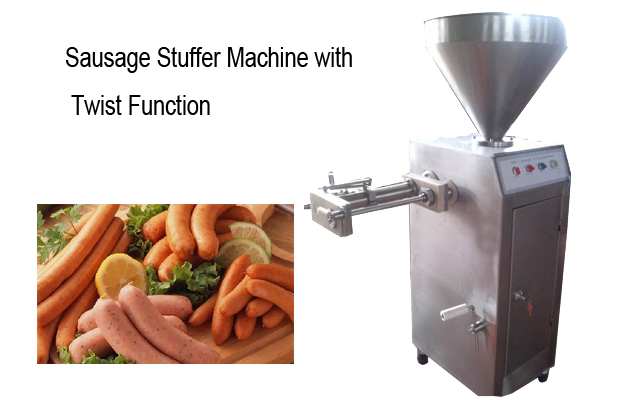 Sausage making machine adopts advanced technology research and use of pneumatic, principle of the photoelectric control, continuous automatic quantitative enema and kinds of food in the bowel, simple operation, convenient maintenance, high accuracy, good repeatability ,it is a kind of high efficiency, easy to operate the ideal products, the whole machine is made of high quality steel, beautiful shape, compact structure and reasonable, airtight waterproof, easy to clean.
Enema machine are widely used in various production of sausage products. In particular, the relative efficiency of the more dry filling is better. This machine is arranged on the upper part of the storage hopper, butterfly valve, can realize the continuous casting cover, improve work efficiency.
Our company's sausage making machines are suitable for meat-processing enterprises and individual businessmen to process various sausages, meat paste filling. suitable for irrigation mess, meat sausage, salami, sausage, garlic sausage, Harbin sausage, kiss intestine, Taiwan Sausage, etc. Sausages are suitable for selection and licensing of small hydraulic sausage filler. It is used in many hotel and large and medium-sized hotel.
The enema machine has the follows characteristics:
1 .Stainless steel body machinery , luxury and beautiful, food sanitation .
2 .Big capacity bowl, hydraulic pressure system filling sausage with rise and lower, lowness noise, high efficiency.
3. High quality elements adopted import and local one, hydraulic pressure element, good quality and long life.
4.The overall structure of the equipment is reasonable, the shape is beautiful, the performance is stable, the operation is simple, and the maintenance is convenient.