Introduction:
1.Peanut roaster:
Multi-purpose roasting machine is mainly used for peanut, peanuts, chestnuts, walnuts, almonds, eat beans, coffee beans, seeds and other granular materials, baking or drying.The machine with electric heating type, fuel oil, or gas and coal as heat source.Adopting rotary drum, heat conduction and thermal radiation theory,Using coal as fuel;Lower production costs(when baking the products don't contact with the fireworks),Proved by several peanut products factory use,This machine is easy to use, high efficiency and energy saving, durable wait for an advantage.Baked products are of good quality and hygiene
2.Roasted peanut peeler: The machine adopts roller rub peeled way,Stable and reliable performance,Long life, peeling effect, high productivity, half a low, good quality, etc
3.Sugar melting pot:
The machine can automatic heat,stirring and titling controlled by electric motors;
Whole machine is made of SUS 304 material;The heating temperature can be set among 0~300℃ and the machine can control the heating temperature automatically depending on the set point.
4.Non-sticky mixer: The machine is special designed for mixing sticky materials which is made of SUS304 material.
5.Peanut brittle forming and cutting machine
: Automatic conveying and manual control;The cutting size can be customized depending on exact demands.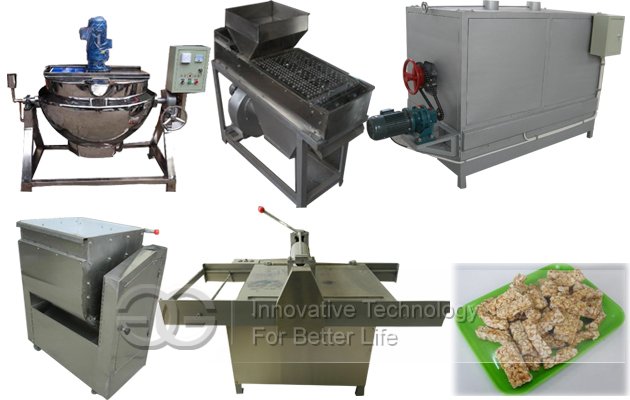 Advantage:
1.Automatic temperature control,rotary,heating,roasting,discharging for roaster;
2.The peanut peeling machine has the functions of automatic peeling,separating ;
3.Automatic stirring type sugar melting pot can be used in food,chemical,medical etc industry for cooking or boiling;whole machine is made of SUS 304 which can meet the standard of food hygiene completely.
4.The special non-sticky pot material is adopted for mixing machine,which can automatic rotary,sway and mixing;
5.Whole machine is made of SUS 304 material;
6.Manual control and easy to operate;