GG series fresh noodle making machine is professional for dough sheet press,noodle forming and cutting,which also have the function of automatic hang.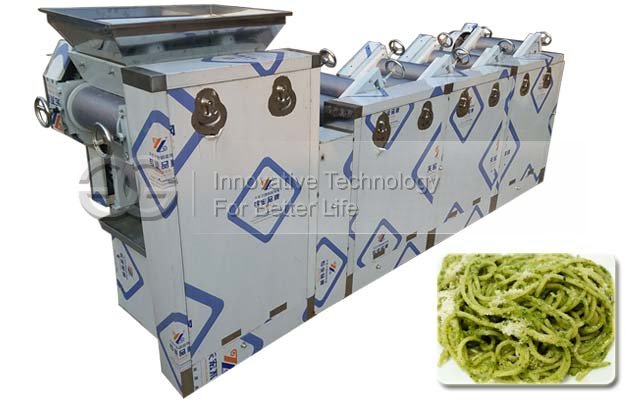 Features of Automatic Noodle Maker Machine
1. Full steel gear transmission, full bearing, small dimension and compact structure;
2. Automatic conveying in entire process, forming for one time, automatic cutting and hanging on rod and rising.
3. Modeling space, low noise, easy to operate, easy to understand.
4. Reducer, chain sprocket transmission, long life and easy maintenance, Labor-saving.
5. Combined type rolling, uniform feeding, dough facets tidiness;
6. Reducer, sprocket chain transfer, low noise, automatic dough cutting and hanging. Surface patch tidiness; Reducer, sprocket chain transfer;
7. This equipment can also be put into noodle production line to use, which can connect with drying line. Whole process can be finished automatically.
8. As to the noodle molding knifes, we can customize the forming width of knifes according to customers' exact demands;
9. The knifes can be changed to get the noodles with different size easily when needed.
10. Working flow: Mixed flour-dough sheet-noodle forming-cutting-automatic hanging on rod-drying-cutting-packing.
11. Apply to small noodles processing plants. Reduction gears, chain sprocket transmission, long life.
12. Machine is easy to assemble, clean and maintain
13. The noodles Making Machinery are highly effective as well as non stop continuous noodles Making process.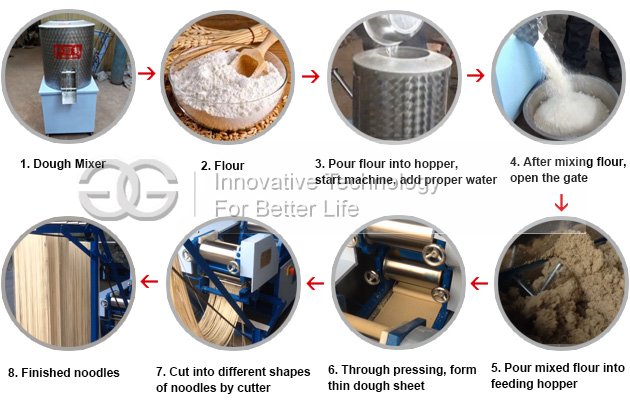 Advantages of Automatic Fresh Noodle Making Machine
1. Lose nosy, and long life
2. Easy to operate
3. Automatic transfer, forming in one time, cutting and hanging by itself.
4. Safe operate and healthy.
5. Group rollers can be customized.
6. Noodles making machine is fitted with heavy duty mild steel fabricated structure
7. Easy to operate, saving time and labor
8. Operator needs no experience, production is rapid. The thickness of noodles is adjustable.
9. Advanced Design and Sanitary
10. Machine is easy to assemble, clean and maintain
11. Special alloy steel / cast iron gears minimize both friction and noise providing quiet operation.
12. Uniform Products, Reasonable Price, Small Size, Easy Maintenance