Automatic Ice Cream Cone Production Line Introduction
The whole production line is specialized designed for waflle sugar cones production, which is driven by the 3phase power and the baking oven is heating with gas (nature gas or liquid gas). This automatic produciton line can meet requirement for large capacity ice cream cones production.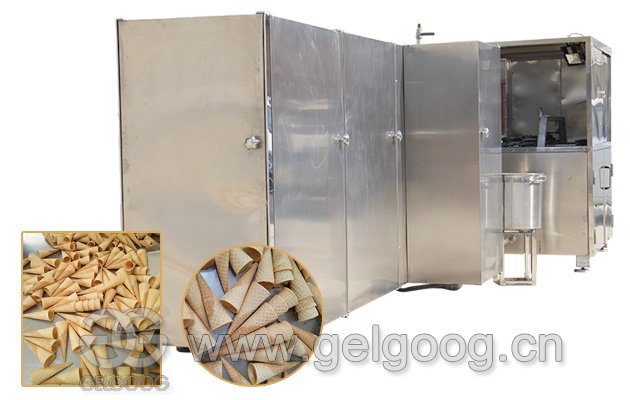 The prodduction ability is very high and it is all automatic from spaying batter, baking, forming, falling off from molds, conveying products, stacking and counting.
Ice Cream Cone Production Line Automatic Video
This whole set
ice cream cones produciton line
can produce different shapes of ice cream cones, just tell us your requirement, we can customize moulds according to your requirement. Compared with other kind of ice cream cone machine, this processing line costs less gas consumption. The size and length of sugar cones can be customized, high production capacity, low investment, high profit.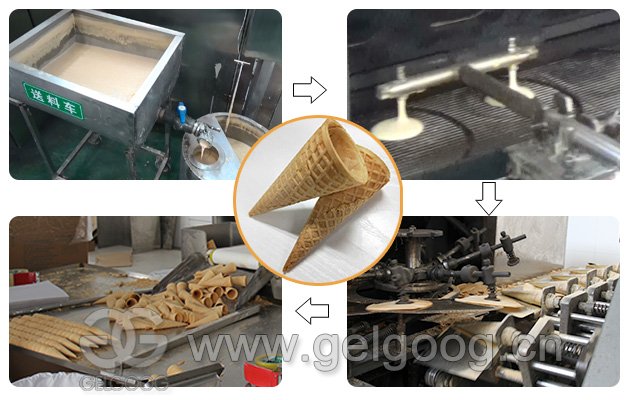 Structure: The spare parts of machine are installed on the strong steel structures. The doors are double for heat insu-lation. All the panels are made with stainless steel.
Equipment performance: This baking equipment is rotating continuously and automatically. The speed can be adjusted as required. The machine is driven by one motor with direct traction.
Our factory has years of manufacturing experience for ice cream cones production lines. If you want wafer cone making machine, our factory also can supply for you. Feel free to contact us. Our factory will help you one this ice cream cone production business.